Barcelona
Gerard Pique: Harvard-educated genius who won't be silenced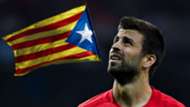 Gerard Pique had been understandably left in a state of despair by the time he faced the press after Barcelona's meeting with Las Palmas at an empty Camp Nou on Saturday.
He and his team-mates had been forced by the Professional Football League (LFP) to play a game of football while people trying to vote on Catalan independence were being brutally assaulted by police officers sent by the Spanish government to supress a referendum regarded as illegal.
Barca 13/2 to win CL with dabblebet
"It's been a very tough day, probably the toughest since I turned professional," the defender said, fighting back the tears. "But my opinion counts for little."
Pique was wrong in that regard, though. His opinion matters, to a lot of people; to those that share his belief that the Catalan people deserve the right to decide whether to remain a part of Spain - and those that don't.
Indeed, when Pique publicly criticised Spanish Prime Minister Mariano Rajoy, it was headline news.
"He's a government president, who goes around the world, and doesn't know how to speak English," the Catalan sniped. "That's his level."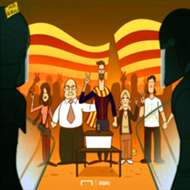 It was, therefore, unsurprising that when Pique reported for international duty with Spain on Monday, he was insulted and booed.
Some of the 1,000 fans that attended the open training session sang, "Piqué, cabrón, fuera de la selección (Pique, asshole, out of the national team)."
It was a predictably bitter and vulgar response from a section of Spanish supporters who have long taken issue with the centre-half's support for Catalunya and, by association, perceived lack of patriotism.
But then, as Pique countered ahead of Friday's World Cup qualifier in Alicante, "Being called up to the national team isn't a competition of who's more patriotic.
"There have been many players who have been naturalised from other countries and weren't Spaniards.
"Being called up to the national team is about going with them, playing the best you possibly can and trying to win. That's how I understand it.
"I really think I can still go with the national team because I'm convinced that there are thousands of people who are in total disagreement with what's happened.
"But I'll also say that if the coach or another executive in the Federation thinks I'm a problem or a disturbance in the national team, I have no qualms about stepping aside and leaving the team before 2018."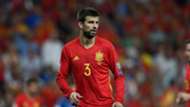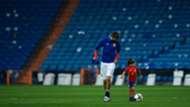 Those were not empty words, either. This is an intelligent man - he has an IQ of more than 140 (genius level) - who puts great thought into what he says and does.
He can be impulsive, of course - we have seen that on the field and off it, through his social media activity - but he is literally a student of the game, having taken a course in 'The business of Entertainment, Media and Sports' at Harvard University, alongside other elite athletes such as CJ McCollum, Jamie Heaslip, Alisson Feaster and Rashean Mathis.
He learned many lessons during his course but the importance of being able to communicate clearly with colleagues was hammered home to him - hence his criticism of Rajoy for his inability to speak English, the international language of business.
After all, it was he and his wife Shakira who, according to Barca vice-president Manuel Arroyo, "laid some of the foundations" for the club's sponsorship deal with Rakuten during a dinner with senior figures from the company in 2015, while Pique also counts Facebook founder Mark Zuckerberg amongst his associates.
Pique is a polarising figure in Spanish football yet is not a divisive character by nature. Indeed, during a recent case study on FC Barcelona that he presented to over 180 Harvard students last month, he preached inclusion not exclusion. He wants to open the club up to the world, not take it away from anyone.
Balance was key, he explained, underlining the need to "recognize our obligation to embrace our global reach while, at the same time, maintaining a strong base of local supporters, which is, and always will be, with us, even when times are tough."
As Pique acknowledged, Barca is, always has been, and always will be "more than just a club" for its Catalan supporters, a means of expression and a form of identity.
"The most important thing is not the sports performance of today's youth, but rather the added value of letting them get to know the club and what it is they represent," he reasoned.
Catalan pride has long been a source of contention in Spain, dating back to long before the Siege of Barcelona in 1714 when forces of King Philip V of Spain annexed Catalonia to complete the War of Spanish Succession.
Then there was the brutal dictatorship of General Francisco Franco between 1936 and 1975, but, as the disturbing events of Sunday underlined, this Catalan pride cannot be suppressed.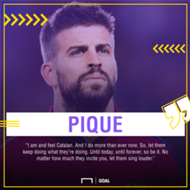 "It's a very tough day. The images of the Civil Guard and the National Police speak for themselves," Pique said after the game, addressing scenes of violence that shocked the world and left almost 900 citizens injured.
"Us Catalans aren't the bad guys, we just want to vote. When you vote, you can vote 'yes', 'no' or not at all, but you can still vote.
"Under Franco's regime, you couldn't vote and it's a right that we have to defend.
"I am and feel Catalan. And I do more than ever now.
"So, let them keep doing what they're doing. Until today, until forever, so be it.
"No matter how much they incite you, let them sing louder."
Clearly, no matter how loud the insults and boos become, he will not be dissuaded demanding democracy for Catalunya.