Transfers
Pienaar: PSL players only want to be famous in South Africa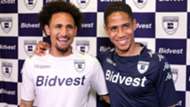 Bidvest Wits midfielder Steven Pienaar says the reason most South African players don't make it abroad is because they want to be superstars at home particularly at the shopping malls.
"From a personal experience, you look back at where you come from and where you want to go. To me, it was clear I wanted to achieve things in my career. You look at your life and that of your family. What are you going to do back at home? Drive around, go to the malls and chill?" Pienaar told SunSport.
In recent years, a number of players have returned from Europe such as Daylon Claasen, Ayanda Patosi, Anele Ngcongca and Tefu Mashamaite to mention but a few.
"Most of the younger players who get opportunities to go to Europe go there for two seasons and come back because I think many of them are spoiled in South Africa and they get everything easy. You know when you live in Joburg and drive a nice car that's life for you. They don't want to go and face all the obstacles and the challenges that lie ahead in Europe," Pienaar said.
Pienaar, for his part played for 16 years in Europe, starting off at Ajax Amsterdam before moving to Borussia Dortmund, Everton, Tottenham Hotspur and ending off with Sunderland.
"I had the belief that I could achieve greater [things]. As a player, do you want to play in the best leagues in the world or do you want to come back home? Do you want to be famous at shopping malls or do you want to make sure your children get a better life and a better education? Why not grab the opportunity of making more money and securing your future?" Pienaar explained.