FA Cup
Pahang and PKNP through to FA Cup semi-final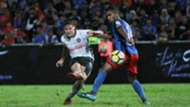 Going into Friday night's Malaysia FA Cup quarterfinal second leg matches, many would have put Johor Darul Ta'zim and Felda United as the favourite to go through to the next stage of the competition, but it was the away sides who eventually earned their ticket to the semi-final.
Against all odds, Pahang and PKNP FC triumphed at Tan Sri Dato Haji Hassan Yunos Stadium and Tun Abdul Razak Stadium respectively, and will now face each other in the semi-final.
To put into perspective the gigantic result that Pahang achieved in the second leg, that 0-3 win for the visitors was the first time that anybody have won at Larkin since 2015. Patrick Cruz became the hero as he plundered in three goals, one in the first half and a brace in the second half.
Weather conditions made the pitch at Larkin very hard to play on and it was Pahang who adapted to the conditions better with Nor Azam Azih displaying a real leadership quality at the heart of Pahang's midfield. 
JDT continued to look toothless in attack with Hazwan Bakri struggling to be the right foil for Safawi Rasid and Gonzalo Cabrera on either side of him. The mid-season transfer window can't come fast enough for the Southern Tigers as they look to replenish that underwhelming striking department.
In the other match which pitted one former Premier League team against a current one, it was the former that sprung a surprise. PKNP won 1-2 in Jengka to advance to the next stage on away goal's rule with the aggregate score at 2-2.
Shahrel Fikri showed that he has finally put his injury worries behind him with a spectacular double salvo of headers, both in the opening half to guide his team to their first domestic cup semi-final appearance in their history.
Abu Bakar Fadzim sprung a surprise by switching midfielder Franklin Anzite to a central striker position and moving Lyuben Nikolov from the centre of defence to a holding midfield role. That seemed to catch Felda by surprise as they struggled to break down a disciplined PKNP defence.
The only time the found the back of the net was through a set piece, in which Wan Zack Haikal produced an oustanding effort to score in the first half and almost replicated the same with another free kick in the second half, which agonisingly grazed the top crossbar.