Mexico
Osorio backs Chicharito despite his rough year for club and country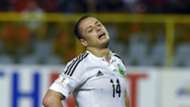 NEW YORK — You might think Javier "Chicharito" Hernandez would face a bit less criticism given his status as Mexico's all-time leading scorer (having tied Jared Borgetti's record in March), but as he battles the injury that has kept him out since the game after he tied that record, Chicharito is once again the subject of plenty of scrutiny.
It is a situation that leaves Mexico coach Juan Carlos Osorio a bit perplexed because when he takes stock of Chicharito, he thinks of him as a weapon to build El Tri's attack around, and a player worthy of praise rather than criticism.
"We think Javier is one of the best finishers in the world and we think he's unjustly criticized," Osorio told reporters at a roundtable interview in Manhattan on Thursday. "So when (Chicharito) comes to the national team, the only thing we do is support him from a soccer standpoint. We surround him always with three options, two playing on the wings, and one player normally playing behind him. We don't give him all the responsibility to score goals, but rather to participate so he can be more influential in the games.
"Second, in the emotional part, we keep reiterating our belief that he's one of the best finishers in the world and at any moment he'll start scoring again."
Media Microscope: Sideline reporters add unique element
Chicharito closed out 2016 mired in a slump for club and country. For Mexico, he went a span of nine months without a goal, dating all the way back to his disappointing Copa America, which saw him produce just one goal. To be fair, Chicharito only played four matches for Mexico during that nine-month drought. He missed September's qualifiers with a broken hand suffered after he fell down a flight of stars, and was left out of the October friendlies as Osorio called in an experimental group of players.
Chicharito's struggles carried over to Bayer Leverkusen, where he went three months without a goal before a hot streak that quickly came and went after the winter break. He finally ended his drought for El Tri in the World Cup qualifying win against Costa Rica in March, but promptly suffered an injury that has kept him out ever since.
Osorio will need Chicharito back to his best as El Tri prepare for a busy summer that will include key World Cup qualifiers against Honduras and the United States, as well as the Confederations Cup.