Other Competition Matches Women
The highs & lows of 2017 Cosafa Women's Cup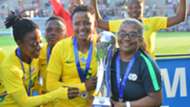 ---
FEATURE:
Samuel Ahmadu
---
It was a thrilling fifth edition with South Africa claiming their record fourth title in Bulawayo.
The two-week long regional showpiece produced 101 goals were scored in 22 matches.
The 12-team tournament, including Kenya, saw the top southern region giants - hosts Zimbabwe and eventual winners Banyana Banyana making the final.
Their roads to the final did go smoothly, especially for Banyana Banyana, who came from three goals down in last 15 minutes to overcome Zambia on penalties in the semi-final.
Unassuming guests Harambee Starlets, who missed the finals at the expense of the hosts were narrowly pipped to third-place by the hard fighting Shepolopolo.
Goal spoke to an ex-international, player, administrator and a coach- who were part of the championship- to hear their thoughts on the highs and lows of the event.
Here's what they said:
---
Doreen Nabwire - Kenyan ex-international
---
I was personally impressed by the organization and the seriousness with which the tournament was run CECAFA and Wafu should borrow a leaf from this.
Looking back at the previous editions, the teams' turnout was lower compared to this year's edition. 
The fact that there were an additional four teams this year, including Kenya as a guest, compared to the eight that took part in 2011 is a plus.
This clearly shows that there is progress and development with regards to women's football.
This again was evident following great performances from Lesotho, Swaziland, and Botswana which are known to be the weakest teams and have- in the past- been recorded to have conceded more goals.
It was amazing to see fans turn up in large numbers to support Women.
We need more of this [media coverage] to market ourselves and expose these amazing talents that are emerging.
We are gifted, this continent has got great potential and Cosafa just confirmed it. Come November in Rwanda, I would like to see the same happen during the CECAFA.
The management of these tournaments should ensure that they happen every year and avoid the long breaks.
This will surely increase competition and further help develop and grow our game, and it is through this that our players will earn recognition internationally and get opportunities to play pro.
Lowest moments! Nah! Bulawayo was great. I mean there could be some but I may not have noticed because it was my first time at Cosafa, and if I could compare it with CECAFA, it is way behind in terms of teams, transportation, accommodation, and organization overall.
---
Tabitha Chawinga – Malawi striker
---
First, I thank God for the blessing because, with him, I wouldn't be where I am today.
I would say all I achieved boils down to teamwork. So, everything that we achieved was because of a collective effort and not me as an individual.
I think considering that we had been inactive for quite a while, the performance was not bad. Remember we had not played a competitive match for about five years. We also did not play any international friendly match ahead of the tournament, and I guess that speaks volumes of the potential we have.
We were able to hold Zimbabwe who qualified for the 2016 Rio Olympic Games in Brazil which, to me, was a feat on its, own and we need to build up from there.
A number of players were playing at the international level for the first time and it was a good learning experience for them.
Of course, there are some areas that need to be worked on, and the coaches will work on them.
My plea to the authorities is that we can only improve by playing regularly, and I hope the team will be kept busy by taking part in more tournaments and organising international friendly games for us.
---
Nomsa Mahlangu - South Africa women's football administrator
---
The tournament was a great success given, firstly, the number of teams that participated.
Secondly, the level of support in terms of spectators and thirdly, the quality of the game for most teams. 
But what was low and a little concerning is that first, other teams were not adequately prepared.  Secondly, the number of goals conceded was much and thirdly, the minimal number of female coaches within teams.
---
Desiree Ellis - South Africa coach
---
We also did not play as well as we wanted. We played the type of football we wanted to against Namibia in the first 20 minutes.
The highlight is obviously winning the tournament, but the game that stands out is definitely the semi-final.
The way we came back from 3-0 down with 15 minutes to go, we showed true fighting spirit, mental strength and the will and desire of never giving up, and then winning it on penalties.
It was surely divine intervention. This was something good, special from a special group of players.
The win in 2002 was so long ago and was actually my last game for Banyana, when we beat Zimbabwe 2-1 in the final.
And 15 years later as a coach, well, it is special but winning the Cosafa was never about me.
It was about a group of players who wanted to win it. Only three in the group had winners' medals - that's Noko Matlou, Nothando Vilakazi and Chantelle Esau.
So, indeed was special for every player. Nothando also got her 100th cap against Namibia, making her the sixth player to get a century of caps.
We needed to win it for our sponsor…who has always supported us and for everyone back home, coaches, players, and fans.
Coming from back from 3-0 down is worth celebrating.
Then controlling the game during the final and could have been two or three up at halftime and conceding and then winning it in the final minute was worth celebrating.