Toluca
Once cast off from big teams, Quinones and Samueza fueling red-hot Toluca to Liga MX summit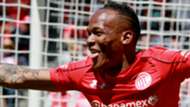 Tigres no longer had any use for Luis Qunones.
After playing the Colombian winger consistently during the 2016 Apertura and 2017 Clausura, he became surplus to requirements for manager Ricardo "Tuca" Ferretti.
Quinones was loaned out to Lobos BUAP for the 2017 Apertura but clashed with the coaching staff and ended up making just five appearances before separating from the squad.
This year, though, he's found a home with Hernan Cristante's Toluca team, scoring twice last week against Lobos to help Toluca vanquish his former club and extend its winning streak to 10 games across all competitions.
The 26-year-old already has five goals in the Clausura, surpassing his career best in a short tournament with four matches still to play. This weekend, Quinones will try to make another former club regret letting him go with Tigres coming to the Estadio Nemasio Diez in a battle of Liga MX's two hottest clubs.
Despite the long winning streak and getting to the Copa MX final, Toluca has been flying under the radar. Sunday is a chance for the club to announce itself on the big stage.
"You get a lot out of it. It means something to be in a final, to be the leaders, to be facing a huge team next and best of all I think we have everything to be able to deal with everything that soccer and life presents us with," goalkeeper Alfredo Talavera said. "Now it's a good match to show who we are."
While Toluca's six straight league victories have taken the Red Devils to the top of the league, Tigres aren't too far behind. Ferretti's side has avoided defeat in league play since Feb. 4, an eight-match run, and sit two points back of Toluca.
"It's going to be a really interesting match. Toluca has a lot of victories in a row and they're doing something well," Tigres center back Hugo Ayala said in a news conference.
"Beyond that, we're also doing things that are giving us results and it's going to be a great match for us. In previous tournaments, the team wasn't getting results in the first several weeks and we needed perfect endings to the seasons. We committed ourselves and are now a showing the soccer we've played for years and we're convinced it's the style we want."
While Toulca's surge coincides with Talavera's return from an ACL injury that kept him out of the entire Apertura and the first several weeks of this tournament, it's the Toluca attack that has been the strength of the team so far.
Quinones isn't the only attacker exacting revenge on other teams after wining Cristante's confidence. Rubens Sambueza was deemed too old for America at age 32. Now 34, no player has had more assists than the Argentine over the last three tournaments, and he's also added four goals for Toluca. One of those came just before the international break when helped Toluca pin the first loss of the tournament on his former club.
Just ahead of them is Alexis Canelo, who was rescued from the ashes of Chiapas by Puebla but has come into his own since joining Toluca in the summer. He's become something of a Copa MX superstar with 10 goals in as many matches, but those excellent cup showings have earned him a shot in the first XI for league play as well.
Cristante, a former goalkeeper, is one of the most meticulous managers in the league. Last tournament, Toulca played in a drastically different way on the road than it did at home. Cristante realized that didn't work after coming away with just seven road points. This season, he's taken the foot off the brake and been rewarded with 16 points, four more than any other team away from home. Even though Toluca will be in the comforts of home Sunday, it may take a while for a match against a typically cautious Ferretti to open up.
Between the attackers from Toluca who want to prove a point to the teams that let them go and a Tigres side that has internationally renowned stars like Andre-Pierre Gignac, Enner Valencia and Eduardo Vargas, the match likely will open up and produce a contest worthy of the two most in-form teams in Mexico.
The winner, should there be one, will have the inside track on being the superlider heading into the postseason. Toluca isn't a grande, nor is it a big-spending club like Tigres. Don't count out Quinones, Sambueza or their teammates, though. Others already have made that mistake and lived to regret it.