Asian Games
OKS not underestimating younger Japanese side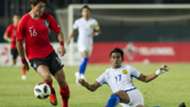 Malaysia head into the clash against Japan on Friday with at least one advantage on their hands - age. While Football Association of Malaysia (FAM) sent the U23 squad, the Japanese Football Association (JFA) opted to send instead their U21 side.
The latter is of course aiming to ensure that their team gets the best preparation ahead of the 2020 Olympics that will be held on home soil for Japan. With two years difference in the playing experience as well as maturity, Ong Kim Swee does not get better chance to have a win over Japan under his belt.
A 2-1 win over highly fancied South Korea earlier in the group stage has whetted appetite and now the fans will be wanting more. A place in the quarterfinal awaits the victors of the tie.
"Of course we know that this is Japan's U21 team and not their best players but they are still a very strong team so for us we must make sure that we are tactically disciplined as we were against South Korea.
"Our approach will have to be different in other ways though because Japan is also a very disciplined side and a mobile one in the 3-4-2-1 they play with quality midfielders and forwards so we know we must stay focused throughout the whole match.
"I've told the players that we can't afford to look too far ahead though and we are focusing just on this match but there's also the chance to imagine what we could achieve at the Asian Games," said Ong in an interview with Fox Sports Asia.
It looks like Akhyar Rashid who was nursing an injury since the final group match against Bahrain has recovered sufficiently to feature against Japan and his exploits alongside Safawi Rasid will be what Ong will be dependent on to make the difference.
Both players have found the back of the net in the competition already and blessed with bags of pace and trickery, Akhyar and Safawi are undoubtedly the main attacking threats Malaysia possess.
Having sat deep and soaked up the considerable pressure against the Koreans, the game might be a bit more balanced against Japan and thus Ong could look to get Akhyar and Safawi on lesser defensive duties that they were asked to to performed previously.
It will not be an easy game but for once, the onus is on Malaysia to clinch a spot in the next stage at Japan's expense and ensure that the 'Jalur Gemilang' will continue to be waved in the football competition of the 2018 Asian Games.