Premier League
Normalization Committee assures Ghana of transparency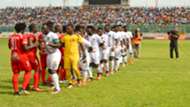 Ghana football's Normalization Committee vice chairperson Lucy Quist says transparency is among their top priorities as they seek to bring normalcy into the country's sport. 
Football activities in the West African nation grounded to a halt after an investigative documentary exposed corrupt and match-fixing activities of top officials and referees of the football association. 
Ghan FA boss Kwesi Nyantakyi was forced to resign, while the association's headquarters was, until this week, declared a crime scene by local police. Suspensions on all competitive local football competitions are yet to be lifted.
"What success will look like in six months is what we are working on now," Quist told the media on Thursday. 
"Some of the things we can definitely assure you of are transparency, communication and above all engagement.
"I think it's not just about four people making and taking decisions. There are some degrees of high level engagements happening so that we can come back to you [with good results].
"It's worth to serve a country of over 30 million but it's just not possible for four people to [do the tasks], no matter how good our intention and how good we are.
"There is more work to be done than just what four people can achieve."
The new set-up is headed by Kofi Amoah, Ghana's Local Organization Committee chairman for hosting of the 2008 Africa Cup of Nations, with Naa Odofoley Nortey and Dua Adonten as members.
According to world football's governing body Fifa, the work of the committee includes "running the GFA's daily affairs and cooperating with the special task force, reviewing the GFA statutes to ensure compliance with the requirements of Fifa and Caf, particularly art. 15 of the FIFA Statutes" and "organising and conducting elections of a GFA executive committee on the basis of the revised GFA statutes once the GFA statutes meet the requirements of Fifa and Caf".