Terengganu II
Rahmad wants more, praises newly-wed Nor Hakim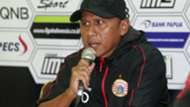 ---
BY         NIK AFIQ        Follow on Twitter
---
Rahmad Darmawan, head coach of T-Team, believed his team still got a lot of work to do despite collecting their first three points of the season.
Mamahadou Samassa scored the winning goal for the home side in the 71st minute to get the all-important win for the Titans.
However, according to Rahmad, they got away with the win and admitted that Penang dominated the match compared to his team.
Speaking after the game, Rahmad said "We didn't play the way we wanted to. We still made a lot of mistakes especially in the first half."
"In the second half, I urged the team to be more compact and more organized defensively and they finally started to do that.
"Overall I think we were lucky and got away with the win despite the game being dominated by Pulau Pinang."
The introduction of newly-wed Nor Hakim Hassan in the 2nd half changed the game, explained Rahmad but he also offered a defence of import striker Farhoud Tadjiyev.
"Nor Hakim hassan changed the game and that is what he is capable of because of his experience. Even though he is stil in his "wedding-mode", I had no choice but to play him."
"Farhoud is a good player but he is yet to reach his top form. We have to be patient with him and he needs more time to adapt with everything," added Rahmad.
With the win, T-Team now has climbed out of the bottom two, collecting four points from three games so far this season.