FA Cup
Kedah happy to take clean sheet to Kuala Terengganu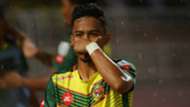 ---
 BY       OOI KIN FAI      Follow on Twitter
---
Kedah started life without Tan Cheng Hoe on a positive note when they defeated Terengganu in the first leg of the FA Cup semi-final on Sunday. Farhan Roslan's goal in the second half turned out to be the only goal in the game as the Red Eagles wrested advantage ahead of the second leg next week.
Temporary head coach, Nidzam Adzha went on to explained in his interview with the official broadcaster after the match - that it was vital for the team to continue to play in the same style and manner that have served them well this 2017 season. 
Kedah 1 Terengganu 0: Farhan Roslan comes on to score first leg winner for Red Eagles
Despite the win, because recent form hasn't been good and Nidzam reckoned that it hampered them in terms of confidence - especially in front of goal. However, having contained Terengganu's attack, he was happy to go into the return leg without an away goal to the Turtles.
"The players proved themselves tonight, not me. They are very in-tune with the style that we've used all this while. For the players, no matter who's in charge, they'll perform. It's the style for Kedah."
"We managed to stop them from scoring an away goal but from what we've seen tonight, we should have scored more. We need to continue at it and work on our finishing," said Nidzam.
At the back, Khairul Helmi produced another sterling performance to help his side clinch a first leg win. The captain also pointed out that his team could have won by a bigger margin on another day but remained contented with the result.
Cheng Hoe departs Kedah just before their FA Cup tie against Terengganu
The players suffered during the match when the heavens opened up and it started to pour. Khairul was happy that the weather did not put a dampener in his team and was also full of praise fo the fans who weathered the heavy rain.
"We created many chances but just couldn't put those away. Finally we got one and it was also good not to concede at home. The fans were amazing today and came out in full force despite the heavy rain."
"We still played well despite the weather. It was good that the pitch stayed fine despite the rain," said Khairul.
The second leg of the tie will be played on the 13 May.