A-League
Newcastle Jets eyeing off strikers after whirlwind pre-season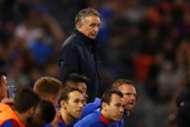 The Newcastle Jets have lived up to their name this pre-season with trips to China and Spain as they look to hit the ground running after falling just short in their last campaign.
After finishing the regular season second, the Jets then lost 1-0 to Melbourne Victory in the A-League grand final in questionable circumstances, but have been quick to pick themselves back up.
With a youthful squad claiming silverware in China and a sunny Spain getting the team acclimatised for the coming summer, Newcastle CEO Lawrie McKinna believes the Jets are primed for another big season.
"Preparation's been great, the boys are buzzing because it's not every time you get a couple overseas trips in your pre-season," McKinna told Goal. 
"The pre-season is very long in Australia so to be able to get that change of scenery has been great. 
"Ok it's a lot of travel, but the facilities and the way we were looked after were outstanding."
— Lawrie McKinna (@LawrieMcKinna) August 3, 2018
Having clocked up the miles in pre-season, Newcastle are yet to make a big splash in the transfer market with Matthew Ridenton from Wellington Phoenix their sole addition to date.
With striker Roy O'Donovan having his ten-game ban upheld and goalkeeper Jack Duncan earning a move abroad, McKinna admitted a few key additions still need to be made but coach Ernie Merrick is relatively happy with his squad.
"Obviously a goalkeeper and a striker are the two main ones," he said. 
"Goalkeeper's obviously important, but we're talking to a few at the moment, and then a striker is the main one and a secondary striker. 
"Ernie's happy with the squad he's got. We've got a lot of depth in the squad but we do need to get a couple key attacking players in the squad."
Newcastle aren't the only ones in the market for a new striker with both Melbourne Victory and Sydney FC also on the lookout for a proven goalscorer. 
After seeing Victory make a splash with the signing of Keisuke Honda, McKinna ruled out the Jets making a similar big-name addition, content with the side's sole marquee Ronald Vargas.
"We can't compete with the big clubs and we're not going to try and compete with them," he said. 
"We did very well last year with the budget we had which is nowhere near that of the big guys. 
"It's nice to see players like that coming to the league but we're not in that ballpark."