KPL
Nakumatt FC players owed over two month salaries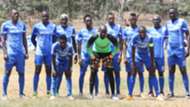 Nakumatt's season is not over yet as the Shoppers eagerly await to know the identity of their next opponent ahead of the relegation playoff berth.
Melis Medo finished a distant 16th in the Kenyan Premier League, meaning that the American tactician will have to face a team from the lower tier in a two-legged playoff whose aggregate winner will take part in the top tier next season.
But even as Nakumatt prepares for the 'biggest game of the season', reports from the Shoppers indicate that players have not been paid for a while.
Sources who spoke to Goal revealed that there is a serious dearth of motivation at the club that was acquired by a city businessman and politician Francis Mureithi from Nakumat Holdings.
"We have not been paid. There is a serious problem which I don't want to talk about but we are not motivated at all. 
"That could explain the reason for the recent results and unfortunately, I can't promise that things will change when we go for the playoff if nothing is done," said a source who spoke to Goal on condition of anonymity for fear f victimization.
Mureithi, whom Goal understand is out of the country, had promised to revitalize the side that faced similar financial difficulties before the deal was struck in April 2018.