Lucas Digne
My dream is to help France repeat World Cup 98 success – Digne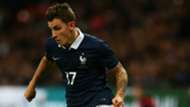 ---

EXCLUSIVE
---
France full-back Lucas Digne has told Goal that it is his ambition to experience the scenes of joy that engulfed the country when Les Bleus won the World Cup on home soil in 1998.
The Roma defender was just five when Zinedine Zidane's double helped Aime Jacquet's side to a 3-1 victory over Brazil, but he has fond memories of that summer and would like to replicate them at Euro 2016.
"It's my dream to relive it - playing a tournament in France is fabulous," he said. "During World Cup 2010, for example, I was at the cinema with friends watching the matches, so to tell them I'll be on the field now is superb. The enthusiasm that goes with playing for the national side is just magical.
"It is an honour to represent my country. For me, this is the highest level of football – there is nothing higher than international level. It is something exceptional to be able to wear the France jersey. 
"When we were little, we all had a France shirt. And I played with the youth teams, too."
Digne also spoke of the support that France receive from the public and though he feels there is much expected of the team, he is of the opinion that the players are winning the fans over after a difficult 10-year spell.
"I think the image of the team is improving and I think it is better with the recent results," Digne continued. "We're happy with the atmosphere that surrounds the team. Football is a game first and foremost, so it's important that people enjoy it. There is pressure, but it's good pressure.
"People expect more from us. We have had good results recently, so it amplifies what is expected of this team.
"We have to make every effort to have a good competition. We are together every hour of the day, so we know each other very well. We're a very solid group and we always have a great laugh together. It is important to have a united squad if we're going to go far."
The 22-year-old appreciates that there are still critics, both of the team and himself, and is looking forward to having the opportunity to prove them wrong.
"I've taken the criticism of me very well," he said. "I know my level. I know what I'm capable of. 
"I've not necessarily played my best matches in the previous games but I have played very well beforehand and with Roma, too. I've had a good season, and so I've no problems. With Les Bleus against Denmark I think I was good, too. 
Speaking of France's defence in general, he added: "We've lost a lot with the injury to Raphael Varane, because he was the defender who played the most. After that I think we have the quality to play a great tournament. 
"We have players of great qualities and it is down to us to prove it. You have to prove to these people wrong."