José Mourinho
Mourinho speaks out on Man Utd interest in Benfica star Lindelof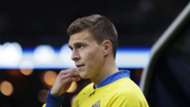 Jose Mourinho has refused to rule out a move for Benfica defender Victor Lindelof and has instead directed all transfer responsibilities to Manchester United chief executive Ed Woodward. 
The Portuguese has long been tipped to sign the Sweden international, with speculation linking the 22-year-old with a move to Old Trafford resurfacing in recent weeks.
Benfica president Luis Filipe Vieira was said to have held talks in Manchester in May ahead of a potential summer move for Lindelof, as well as full-back Nelson Semedo. 
And, while Mourinho is not prepared to comment on the situation, he has also not ruled out signing Lindelof.
"I will not say if I want him or not, I think it's incorrect," he told Mais Futebol . "Rui (Vitória, Benfica manager) is not going to be happy with another club manager talking about a player who is his, the president would not be happy to see that.
"Lindelof is theirs and as long as he's theirs, he's theirs."
Ronaldo 'likes' image mocking Messi
Mourinho has made no secret of his desire to bolster his squad ahead of the 2017-18 campaign and has previously cited the high number of fixtures last season as a direct deterrent on United's bid to compete across all competitions. 
A string of high-profile injuries resulted in a number of players operating away from their most natural position during the 2016-17 season and stretched an already thin squad to its maximum. 
United finished the campaign on a high, however, adding the Europa League trophy to the Community Shield and League Cup they had already secured.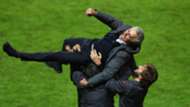 Mourinho is now using that success as bargaining power with the United hierarchy, leaving them to take control as he takes time away from the game ahead of pre-season.
"This year I had the most difficult time of my career! We play every possible game except for two. We played all of the Premier League, of course, all of the Europa League, all of the League Cup which we were in the final and we just didn't play the semi-final and the final of the FA Cup plus the Super Cup.
"I got fed up and tired of football before the last day, I promised that they would not see me in football stadiums, and I stopped negotiating for players and being worried. I gave my list to the CEO in April and he has until August 31st to give me what I want, or not."
Mourinho compromised United's Premier League standing for European success last season, earning a place in next season's Champions League, and he is excited at the prospect of going up against the very best once again.
"For us it's a fantastic opportunity even because we have returned to the Champions League, we have played a very hard Europa League, for several reasons," he added. "But recognise that the best teams are in the Champions League.
"For many of our players to be in the Champions League is a new thing. It is interesting to have the pre-season that we will have, with good games to play, Barcelona, Real Madrid, Man City, Sampdoria and then in August the European Super Cup.
"You have to feel happy to play with the best team in Europe."