MLS
MLS Talking Points: USMNT players try to recover, West spots up for grabs and more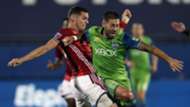 Tuesday's World Cup qualifying failure isn't one any of the U.S. national team players involved will ever forget. But for many of them the mourning period must end this weekend, with club responsibilities back on the front burner.
Two weeks remain in the MLS regular season, and there is still quite a bit on the line, from playoff berths to postseason positioning. A player like Matt Besler can't dwell on the U.S. loss to Trinidad & Tobago too long, not with his Sporting Kansas City side still fighting for a top spot in the Western Conference. The same goes for the Seattle Sounders' Clint Dempsey, while Kellyn Acosta must return to help FC Dallas fight to hold onto its playoff spot.
Michael Bradley and Jozy Altidore are exceptions in the sense that Toronto FC has already secured the Supporters' Shield, and top seed throughout the MLS playoffs, but it's a safe bet both U.S. veterans will want to get back on the field as soon as possible to turn their focus away from the nightmare in the Caribbean. 
On the other end of the emotional spectrum, several CONCACAF players from Costa Rica, Honduras and Panama are back in action after helping their national teams book tickets to Russia or, in Honduras' case, a ticket to a World Cup playoff.
Kendall Waston helped secure Costa Rica's place in the World Cup with a dramatic late goal, and now he can help the Vancouver Whitecaps secure first place in the West with a win this weekend. Roman Torres lifted Panama to its first World Cup berth with an incredible late winner, and must now focus on a huge Western Conference clash against Dallas. Alberth Elis and Romell Quioto helped Honduras beat Mexico to grab fourth place in CONCACAF, and the playoff berth against Australia that comes with it, ahead of the Houston Dynamo's visit to face Sporting KC.
Orlando City failed in its bid to reach the playoffs for the first time, and will now bid farewell to Brazilian star Kaka, who will play his final match for the club Sunday against a red-hot Columbus Crew side unbeaten in eight matches.
Here is a look ahead to some of the key talking points in MLS ahead of Week 32:
---
IT'S A BIG WEEK FOR ... USMNT PLAYERS
---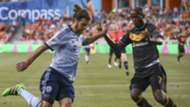 The U.S. national team's failure to qualify for the 2018 World Cup was devastating for everyone involved in American soccer, but particularly crushing for the players who walked off the field at Ato Boldon Stadium knowing they had let their country down. Is five days enough to get off the mat and change focus to MLS play? Several teams will be hoping so as some major matches kick off Sunday.
Eight of this weekend's 11 matches will feature members of the U.S. team that lost to Trinidad & Tobago, and many of those players will be called on to step up with their teams really needing help.
Sporting KC-Houston will see Besler and Graham Zusi on one side and DaMarcus Beasley on the other, with Besler having started in the fateful loss Tuesday, and Beasley having missed out on a possible fifth World Cup when the Americans were eliminated in qualifying. Sporting KC can secure a top two seed in the East with a win, so look for Besler to slide back into the lineup and play a key role in trying to stop the Dynamo's dangerous forwards.
The Sounders-FCD clash has U.S. players on both sides, with Dempsey stepping in for Seattle and Acosta for Dallas. Cristian Roldan and Matt Hedges had also earned recent call-ups, and had to feel devastated by the missed opportunity to earn a place at the next World Cup. In Colorado, Tim Howard and Nick Rimando will likely share a hug and some consolation as they go head to head.
The New York Red Bulls-Atlanta United match will also include players who felt the pain of the World Cup qualifying debacle, as Sacha Kljestan missed out on his last chance and Brad Guzan watched his best chance of being a World Cup starter fade away. The former Chivas USA teammates are veterans, though, and they surely both know how important their Eastern Conference clash is to their teams.
In Portland, Timbers midfielder Darlington Nagbe and D.C. United midfielder Paul Arriola will likely see plenty of each other just days after being on opposite flanks in the U.S. midfield for a loss that kept them both from experiencing their first World Cup. D.C. has nothing to play for, but the Timbers are still fighting for a top seed in the West.
Chris Wondolowski didn't get to play in the decisive U.S. loss, but missing out on Russia still has to be devastating for a player who was probably holding out hope for a chance at World Cup redemption. He must take the field and help the San Jose Earthquakes earn a point or three in Vancouver, knowing a loss would leave the Earthquakes exposed to missing the playoffs.
The Toronto tandem of Bradley and Altidore surely took the qualifying failure hard, but with an MLS Cup to try and win, they will be eager to build momentum heading into the playoffs as they face archrival Montreal.
---
DON'T MISS ... SOUNDERS vs. FC DALLAS
---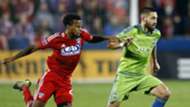 Remember when FC Dallas was in free-fall mode, looking very much like a team that would go from Supporters' Shield winners in 2016 to missing the playoffs a year later? A three-match unbeaten run has given Oscar Pareja's side some life back, but FCD's postseason hopes could rest on being able to grab at least a point at CenturyLink Field.
The Sounders had several players busy during the international break, and a few who endured the emotional roller coaster of making the World Cup or missing out. Can Brian Schmetzer manage all those emotions and get the group together for a big win Sunday? Can Dempsey shake off the pain of missing the chance at a fourth World Cup to push the Sounders toward a potential second MLS Cup?
---
MATCHUPS TO WATCH
---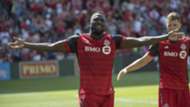 Clint Dempsey vs. Matt Hedges. Though he could also feature in a playmaker role, Dempsey stands a good chance of being deployed as a forward, which would match him up with Hedges in what should be an excellent battle.
Jozy Altidore vs. Laurent Ciman. Altidore will look to put his focus on leading TFC to an MLS Cup after the World Cup qualifying debacle, but Ciman will make things tough.
Romell Quioto vs. Graham Zusi. After getting the better of Zusi in the September World Cup qualifier, Quioto will be raring to have another crack at the converted Sporting KC right back.
Chris Wondolowski vs. Kendall Waston. Though Waston may wind up dealing with countryman Marco Urena while Tim Parker deals with Wondolowski, the Whitecaps will need to keep the U.S. striker under wraps.
Erick Torres vs. Matt Besler. As much as Ike Opara could spend plenty of time on Torres, look for Besler to focus on maintaining a close watch on the striker's well-timed runs.
Dom Dwyer vs. Jonathan Mensah. This one should be a good physical battle, though the Crew's team defending has improved in recent weeks, making Dwyer's task tougher.
Lee Nguyen vs. Alexander Ring. Nguyen is looking to finish the season out strong, but Ring has been one of the better first-year acquisitions in MLS this season.
Kaka vs. Wil Trapp. The Lions will look to showcase Kaka with the Brazilian playing his final match, which means Trapp will have to work hard to keep him under wraps.
Diego Valeri vs. Russell Canouse. Nobody has really been able to slow down Valeri, but Canouse is an impressive young midfielder who can boost his stock if he does just that.
Yordy Reyna vs. Anibal Godoy. If the Earthquakes are going to have any chance of leaving Vancouver with a point or three, Godoy must contain the electric Reyna.
---
WEEK 32 PREDICTIONS
---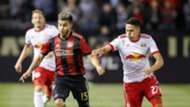 FIRE 2, Union 1. The Union have won two of three, including a 3-1 victory against Chicago two weeks ago, but the Fire are home and know a win moves them a step closer to locking up third in the East.
Revolution 1, NYCFC 2. With just one win in five, NYCFC looks a bit vulnerable, and the Revs have been tough at home this year. So why pick the visitors? Much more is on the line, and David Villa is due for a big game.
Orlando City 1, CREW 3. The Crew might be the hottest team in the league, so a visit to Orlando City Stadium shouldn't trouble them too much against a Lions squad playing out the string.
TORONTO FC 3, Impact 1. The Supporters' Shield is already secured, and the Impact have already been eliminated, but rivalry bragging rights will be motivation enough as TFC exacts revenge for its lone home loss this year.
RED BULLS 2, Atlanta United 1. Without Miguel Almiron, and playing away from home, Atlanta will find it tough sledding against a Red Bulls team that is tough at home and desperate to climb out of sixth place in the East.
Rapids 0, REAL SALT LAKE 2. The Rapids are playing out the string, while a motivated RSL side needs all three points here to boost its playoff hopes. Albert Rusnak and Jefferson Savarino lead the charge.
Galaxy 0, MINNESOTA UNITED 1. The Galaxy need a win to help avoid some pretty woeful historical marks, but the Loons are focused on building momentum heading into year two, and Christian Ramirez should have fun scoring in the stadium he used to go to as a kid.
Timbers 2, D.C. United 0. The Timbers have their sights set on a second MLS Cup in three years, and earning the win against a tricky D.C. side is a must in order to have any chance of catching Vancouver for the top seed.
SOUNDERS 2, FC Dallas 1. As much as FCD needs this one for its playoff hopes, look for the Sounders to come together and put on a stellar outing, with Dempsey unleashing his U.S. frustrations on the Dallas defense.
SPORTING KC 2, Dynamo 1. The Sporting KC attack is particularly tough at home, and the Dynamo have been terrible on the road, making for the right combination for a big SKC victory.
WHITECAPS 3, Earthquakes 0. Few would have pegged the Whitecaps for a first-place finish in the West, but that's exactly what happens here as  Reyna and Fredy Montero run wild on San Jose's vulnerable defense.