Super League
Mineiro's future hangs in the balance as Selangor try out new imports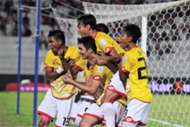 ---
BY        ZULHILMI ZAINAL       Follow on Twitter
---
It seems that not only Liberian forward Forkey Doe's future at Selangor is in doubt. 
Brazilian-born midfielder Juliano Mineiro too may find himself be replaced by the Red Giants in the mid-season transfer window, as head coach Maniam Pachaiappan told the press that the team are keeping their options open with regard to the midfielder's contract extension.
The 31-year old player, alongside Romanian attacker Victor Astafei, had been signed by Selangor in the pre-season as temporary replacement for the then-injured Indonesia winger Andik Vermansah. When the Red Giants decided against extending Astafei's contract in the middle of May in order to make space for the returning Andik, many had thought that Mineiro's future was secure.
But two weeks ago, Mineiro told Goal that he and Selangor would only discuss his contract extension this month, while on Monday, Selangor's first day back in training following a two-week break, almost ten foreign players began their trial with the Red Giants.
Although most of the newcomers were seen trying out for the striker position, Maniam admitted that the Red Giants are also looking to see whether they can find a better replacement for Mineiro, as the midfielder's six-month contract is set to run out soon.
"We have a number of options regarding Mineiro. If we can find a good player to replace him, we will replace him.
"But the player must be better than Mineiro," revealed Maniam during the training session.
However, Mineiro can take solace in the fact that Maniam is pleased with his performance so far, which means that any trialists hoping to replace him must perform exceptionally well.
"So far, he's doing very well with Selangor and has scored five goals.
"We want to see if we can find anyone better than him. If we can, we'll consider him, if not we will retain Mineiro," he said.
But whatever decision Maniam wants to make regarding Doe and Mineiro, he does not have long left to do it, as the transfer window closes on June 11. For the record, the two are the Red Giants' current joint top-scorers in the league, with five goals.