Orlando Pirates
Milutin Sredojevic philosophical about Orlando Pirates' title chances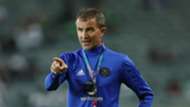 Despite their resurgence as Premier Soccer League title contenders, Orlando Pirates coach Milutin Sredojevic has downplayed his team's chances of lifting the trophy this season.
The Serbian manager spoke to the media in Parktown on Monday after he was announced as the PSL Coach of the Month for January.
'Micho' could not give much on the title race, but said he has full confidence on his troops as they stand a chance to lift two trophies this season. 
The Soweto giants are in the Nedbank Cup Last 16 stage and will meet Cape Town City. They sit third on the log table with 33 points from 21 matches.
"Instead of coming here and talking big and promising and threatening that we will go on and win the title, I would rather go to the drawing board together with my technical team and pay attention to details - where we are failing and succeeding," said Sredojevic to the media.
"I can't reveal our strategy as then it will not be fair to the players because they should know before anybody else how we are going to approach the remaining matches, but I can assure you that we are going to approach every single match with integrity. We have important matches against big teams, and for me these games are six pointers because it feels like the points are double when you win," he added.
Having enjoyed a two-week break since their 2-0 win over Ajax Cape Town in the Nedbank Cup competition at home, Pirates mathematically remain in contention to win the league title. 
However, ahead of them is a stubborn Chippa United side this weekend and they will then meet rivals Kaizer Chiefs in the Soweto Derby – a match that could spice up the title race.
"I have so much confidence in the players and the work we are doing. These are the ingredients that will help us to be contenders for the league and the Cup (Nedbank Cup)," adds the former Uganda coach.
 
"We have the highest obligation to our supporters. We have a rich history behind us and in a few weeks' time, we will know who will be champions. There is one invisible match that we are playing outside the field of play. People are seeing the one on the pitch when they are watching from home or at the stadium, but behind the scenes we are playing a more difficult one - what we do in training is supposed to be mirrored on the field of play." concluded the Coach of the Month.