Mexico
Mexico's path to the 'quinto partido' will draw attention at Friday's World Cup draw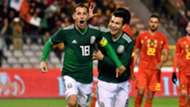 The fifth game. "El quinto partido." Even with the World Cup Round of 16 still a full eight months away, the draw Mexico gets Dec. 1 will direct everyone's attention to what could be happening June 1.
Talk about getting to the "quinto partido" is on everyone's lips every four years. For a country that lives and breaths soccer as much as Mexico does and has so much pride in its national team, the fact that the team has never made it to the quarterfinals of a World Cup played on foreign soil stands out as a point of embarrassment.
There will be analysis of Mexico's group opponents, but fans also will be tempted to look ahead to see who Mexico might face in the Round of 16, the point where the adventure has ended for El Tri in the last six tournaments.
"First we have to talk about the group phase and after that see if Mexico can keep advancing to the final stages. But Mexico can advance to the fifth game," former Mexico midfielder Alberto Garcia Arce, a three-time World Cup veteran who now works as a Fox Deportes analyst, told Goal this week, "Hopefully this national team can move on even past that, but obviously we'll have to see beyond even the group that they're in, which team they could meet in the next round. That's also really important: Which team you could face when you're advancing to the next round."
That's what Mexico will learn Friday morning Mexico City time. Sitting in Pot 2 as CONCACAF's strongest team, Mexico could end up with a favorable draw but be 'crossed' with a group that contains two powers like Brazil and Spain .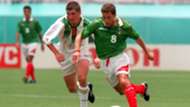 While it's a topic of plenty of debate among the Mexican people, Garcia Aspe said the players inside the locker room are much more likely to focus on the matchup at hand rather than hitting a goal the fans have set for the team - no matter how much of a boost to the spirits it would be if they hit that goal. 
"I don't think the players talk about the 'quinto partido'. I think the 'quinto partido' is much more something the fans and the press (chat about). The press is a big part of why we talk about this fifth game. Obviously the players do have it in mind. In 1994 we were right there and we've been very close to advancing there in other World Cups," Garcia Aspe said.
That tournament in the United States showed how deceiving the draw can be. Mexico won its group thanks to scoring more goals than a powerhouse Italy team that ended up finishing runner-up. That brought what should've been a forgiving contest against Bulgaria. Garcia Aspe converted a penalty in regular time of a 1-1 draw but sent his kick in the shootout over the crossbar as the Cinderella team from Europe continued on.
Even with a glass ceiling on the team, Garcia Aspe hopes the current team aims not only to get to the fifth game and break out of the rut the Mexico national team seems to be stuck in but sets its sights even higher.
"I think as a player, you concentrate more on the games that are coming, on moving on, but obviously you have the expectation of getting to this 'quinto partido' - not only the 'quinto partido'​ but advancing ideally to the seventh game, right? That would be the final," he said. "I don't think the players are thinking about the fifth game. They're thinking about playing at the World Cup, defending the colors, doing their job and in the course of that you get to the 'quinto partido.'"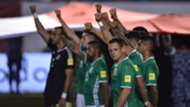 That certainly is the attitude the current squad is taking. Midfielder Andres Guardado said before friendly matches against Belgium and Poland in November that he "might get called crazy" for thinking El Tri could go far beyond the fifth game but nevertheless will approach the tournament with that attitude.
"Mexico's ambition is very clear. In our country we talk a lot about a different World Cup and about finally eliminating the ghosts of the past and be able not only to get past the 'quinto partido,' which is mentioned often in Mexico, but be able to set much higher goals for ourselves. I believe we're capable of this," Guardado said at a news conference.
So if Mexico is set to give its all with Juan Carlos Osorio at the helm and a mix of veteran players like Guardado and Chicharito with rising stars like Hirving Lozano and Jesus Corona, are we putting too much emphasis on Friday's big moment? Is it just something to tide us over until the real fun starts in the summer? Well, not quite.
Just who Mexico plays will have a big bearing on how easy the road is to achieving what it wants in Russia. Garcia Aspe noted that a tough group but an easy Round of 16 opponent may help Mexico get up to speed as opposed to the reverse. Osorio is waiting to see what the ping-pong balls bring.
"We'll see what fate has for us. I think all the teams in the World Cup have their own merit and methodology and will be difficult challenges," the coach said upon arriving in Moscow. "I think we can accommodate certain styles of play. Mexican soccer has been preparing to arrive at this moment in time and if we want to have a great World Cup we must face difficult opponents. We're waiting to compete and have a good World Cup."