WTF
Messi and Ronaldo share adorable kiss ahead of Clasico in Barcelona street art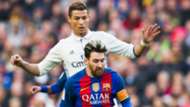 Here's a sight you probably thought you'd never see: Lionel Messi on his tiptoes kissing Cristiano Ronaldo.
Revealed: What Dani Alves said to Neymar
Yet that is exactly what is currently on display in Barcelona's Passeig de Gracia as part of the city's celebrations for St George's Day, which takes place on Saturday. Sant Jordi, as he is known in Catalan, is the patron saint of the region and so it is an important day in the city.
It was painted by Tvboy, an artist known for his controversial work and is entitled 'Love is Blind'.
The two players will lock horns in the Clasico on Sunday in an encounter that will have a huge bearing on the destination of the Primera Division title, and regardless of what the artist has portrayed, the pair are likely to show a very different attitude to that in the painting.
Messi and Ronaldo have been rivals for a decade, achieving incredible scoring feats and winning armfuls of silverware, while they have each won a plethora of individual accolades. It is the Portuguese who has the upper hand currently in the battle for superiority, having won the 2016 Ballon d'Or off the back of Euro 2016 and Champions League success, though Messi has one more Ballon d'Or to his name.