Kylian Mbappé
Perez: Difficult to find a place for Mbappe at Real Madrid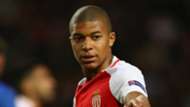 Florentino Perez says Zinedine Zidane is interested in Kylian Mbappe, but admits it would be difficult to find a place for him at Real Madrid.
The 18-year-old striker has attracted Europe's top clubs after a sensational season with Ligue 1 champions Monaco.
Goal understands Paris Saint-Germain have made an offer of more than €135 million, while Perez confirmed Madrid are following him last week and said he will "become one of the greatest".
Reports in Spain have said the Champions League holders are willing to allow one of their famous trio of Gareth Bale, Karim Benzema and Cristiano Ronaldo to leave in order to make room for Mbappe.
The club's president has reiterated his admiration for the France international but says a transfer will not be an easy one.
"Mbappe is a very good player," he told esRadio. "This situation reminds me of last year when they told us to sign Paul Pogba from Juventus.
"The summer is long. Zidane has been close to him for several years.
"Not many players play for Real Madrid at 18 years old. We must be patient. Zidane has him in mind.
FIFA releases full Garcia Report after leak
"It's not enough to say we can bring players in and then have them sitting on the bench. We are thinking about Mbappe, but his age makes it difficult to find a place."
Mbappe scored 26 goals in 44 appearances in all competitions for Monaco last season, including Champions League goals against Manchester United, Borussia Dortmund and Juventus. 
He is contracted to the French side until 2019.