Mbabane Swallows
Mbabane Swallows boss Victor Gamedze shot dead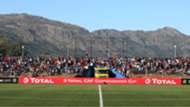 Mbabane Swallows have confirmed the tragic news regarding the death of their owner Victor Gamedze.
The prominent Swaziland businessman was previously believed to be interested in acquiring the Premier Soccer League (PSL) status of a club in South Africa and was mulling over the idea of the Swazi Champions joining the South African topflight due to a lack of competition in their native homeland.
However, any talk of a move will now be put on the back burner with the club's CEO Sandile Zwane, confirming the news of Gamedze's passing.
"Yes, it is true that our chairman has been shot to death," Zwane told Independent Media.
"We are still shocked. We are busy sorting out things with the family.
"We will release a proper statement that has all the details on Tuesday. We want to get the direction from the family," Zwane explained.
Furthermore, the publication report that the Swallows boss was allegedly gunned down while filling petrol at a fuelling station in Swaziland, and subsequently was pronounced dead at the scene.
"Gamedze is no more," a source was quoted as saying.
"He was shot while filling up his car with petrol in Swaziland. He died at the scene. It is a very sad moment for the people of Swaziland," the source expressed.