World Cup
Maradona leads Argentina celebrations with crude double-finger salute after Rojo's winner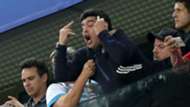 Argentina legend Diego Maradona lead the celebrations after Marcos Rojo's late winner, offering a crude double-finger salute to Nigeria fans. 
Rojo put Argentina in the World Cup last 16 with a dramatic late volley on Tuesday, putting his country's poor start to the World Cup behind them in a 2-1 win. 
Maradona took it all in from a seat in a luxury box, and was highly expressive throughout the match, vacillating between expressions of joy, sorrow, prayer and eventually, taunting. 
The Argentine legend did not hold back after Rojo's goal, and social media captured the scene. 
Maradona does weekends in 90mins 👀🤣 pic.twitter.com/9duP5EavD2

— Graham Fitzpatrick (@gwfitzpatrick) June 26, 2018
Watching Maradona's reactions was just as entertaining as the game itself.#NGAARG #WorldCup pic.twitter.com/du2utPkNmd

— Sporting News (@sportingnews) June 26, 2018
Final score as #ARG advances in the #WorldCup

Nigeria: 1

Argentina: pic.twitter.com/nh869XkEc5

— Sporting News (@sportingnews) June 26, 2018
It's exhausting being Maradona. pic.twitter.com/5n3xp8lUx5

— Piers Morgan (@piersmorgan) June 26, 2018
Maradona using an offensive hand gesture to antagonise an entire nation pic.twitter.com/a0jYvx8qfI

— Oldfirmfacts (@Oldfirmfacts1) June 26, 2018
Don't know what's funnier.
The guy holding Maradona back or the ladies expression at the back. pic.twitter.com/Rpv0TXXhl1

— Sahil Shah (@SahilBulla) June 26, 2018
It looks as though Diego Maradona enjoyed that late Argentina winner! #ARG pic.twitter.com/apUTHj5hDz

— Goal (@goal) June 26, 2018
Maradona is an international treasure pic.twitter.com/IiecDNGWFJ

— Jack Grimse (@JackGrimse) June 26, 2018
Maradona perfectly describes the 4 years of Engineering. #ARGNGA #NGAARG pic.twitter.com/rIaqLtV47G

— ScoopWhoop (@ScoopWhoop) June 26, 2018
Argentina will take on France in a mouthwatering last-16 matchup on Saturday.