Simba
Manula: I feel like an important player at Simba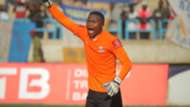 Simba's first choice Goalkeeper Aishi Manula has insisted that he is happy at the club despite continued interest from his previous club Azam FC.
Manula, who has 16 months left on his current deal at Msimbazi, told Goal that he is only focused on helping his current employers to win the Premium League title and playing the finals of the CAF Confederation Cup this year.
"Time flies by so quickly. I've been here for one season now and I am happy with everything and my plan is to help my club to win every title we participate in this season,"
"I feel like an important player in the dressing room. I am one of the oldest in the team. It makes me happy to see the younger players coming through - and trying to make Simba big" enthused Manula
Manula moved to Simba from Azam FC in 2017 for Tsh 40 million and has made 18 appearances, allowing 9 goals in his net.