Manchester United
Former Manchester United defender Nemanja Vidic to attend two-day conference in Mumbai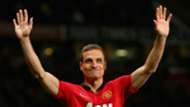 Mumbai will witness the arrival of former Manchester United defender Nemanja Vidic as the Serbian will be a part of the third edition of The Football Movement. The UK Department for International Trade (DIT), together with the Premier League and India On Track, are bringing Premier League and Indian football clubs, sports organisations and businesses together to focus on 'Commercial Sustainability and the Growth of Football in India'.
The two-day conference will take place on February 22 and 23 where the 36-year-old  will be speaking about his experiences playing in the Premier League. The conference will feature keynote speakers including Premier League Managing Director Richard Masters, Director General of UK Department for International Trade, India & South Asia and representatives of the Indian Super League (ISL), Premier League clubs and the All India Football Federation (AIFF).
"The continued popularity of the ISL,  the  success of the recent  U17  FIFA World  Cup and  the millions of passionate Premier League fans demonstrate the growing interest in football in India. We work extremely closely with  the  ISL,  AIFF  and  other  organisations to  support  the  development of  the  game  at  all levels. The Football Movement conference provides opportunity to discuss further ways to grow the sport,'' said Richard Masters.
The former Inter Milan player too expressed his delight saying, ''It is clearly an exciting time for football in India at the moment. As a professional footballer, I saw firsthand not just the passion for the Premier League but also how football can positively impact communities around the world. I am looking forward to bringing some of my own Premier League experiences to the Football Movement conference next week.''
Lastly, Vivek Sethia, Founder and Chief Executive Officer of India On Track, added, ''We believe in ideas that can shape the ideal football community. The true potential lies in understanding that people who are passionate about the game are driving the community towards the sport of football, be it starting with football clubs or societies or the fans. The Football Movement will help us laydown strong foundations for an ecosystem that will build on the growth seen in football over the last few years."