Man Utd's new Solskjaer? Why Martial should embrace Mourinho's rotation
With Jose Mourinho's Manchester United class of 2017-18 flying high in the Premier League, the Red Devils have drawn widespread praise for their progress made under the Portuguese coach.
Just 16 months into the job, the man charged with the task of returning former glories to Old Trafford has set about that challenge with aplomb.
Man Utd 11/1 to win Champions League
Three trophies were delivered during Mourinho's debut campaign, and there is the promise of more illustrious prizes to come.
So impressive have United been – with their recruitment also having been widely heralded – that comparisons are being drawn to decorated sides of the club's past which prospered during Sir Alex Ferguson's iconic spell at the helm.
Former captain Bryan Robson told PA Sport recently : "It always depends on injuries throughout the year, but, as far as I am concerned, since Sir Alex left this is probably the strongest squad that I've seen. We've got pace, we've got power, but we've also got quality players."
Louis Saha, meanwhile, told Omnisport : "This is clearly the best side since United were playing for Ferguson. More confident and clearly more balanced even if I think the defence needs more. Mourinho is a great manager and he has built his team to compete and play the way United fans around the world are craving for."
Among the major contributing factors which allowed United to enjoy an era of almost unprecedented dominance under Ferguson was the firepower at their disposal and the depth they were able to achieve within vital areas of the squad.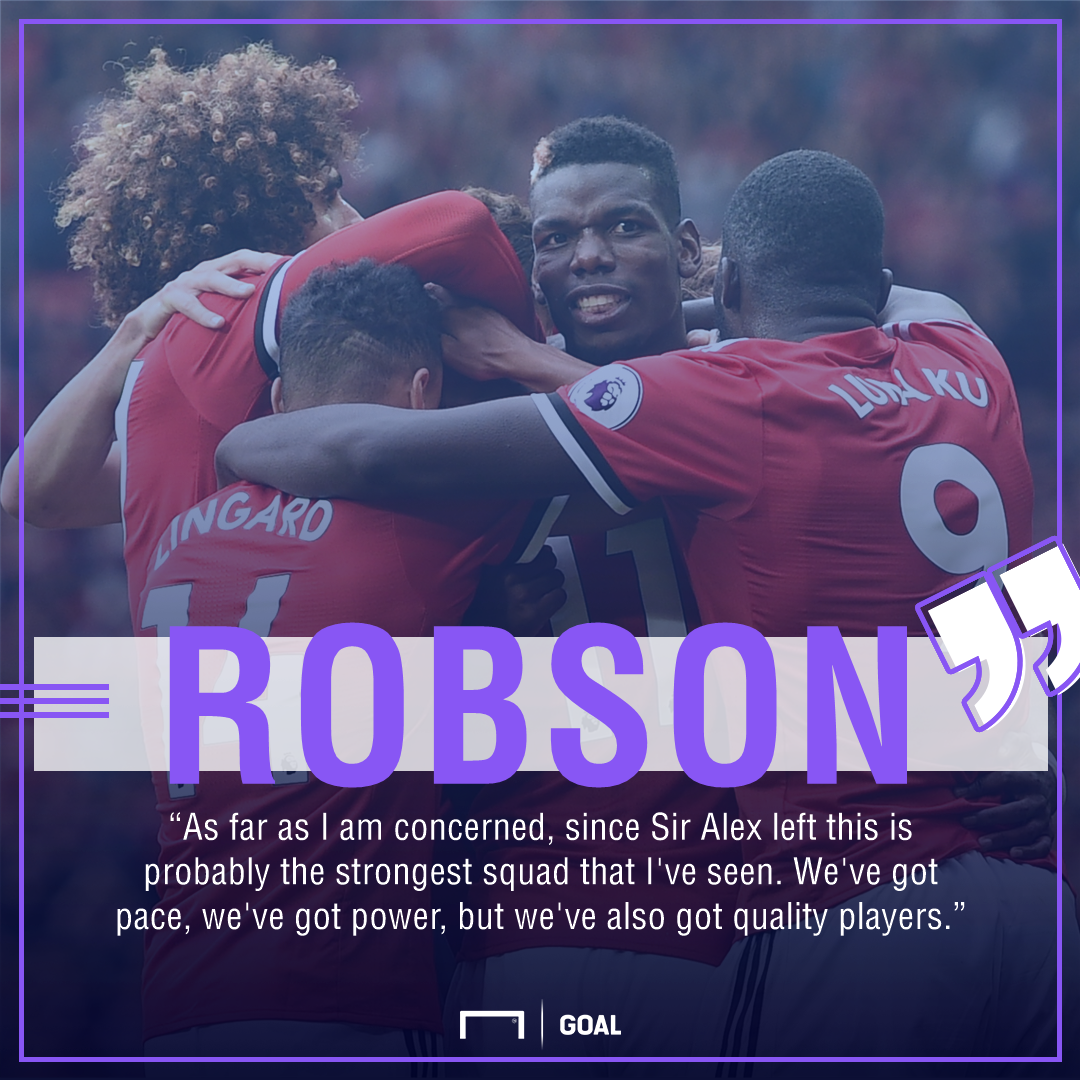 In 1999, for instance, as they swept to a historic Treble, the Red Devils boasted an enviable attacking unit which included four proven international performers.
Dwight Yorke and Andy Cole led the charge, but they were ably assisted by Teddy Sheringham and Ole Gunnar Solskjaer.
The latter secured cult hero status during his time as Old Trafford as, along with his famous last-gasp winner against Bayern Munich in the Champions League final, he plundered 126 goals in 366 appearances.
Of those efforts, 29 came when stepping off the bench, with the 'Baby-faced Assassin' earning a reputation as one of the finest super-subs in the business - prepared to play up to that role and embrace such a standing within one of the biggest clubs in world football.
Fast forward to the present, and Mourinho is busily assembling a squad in the Ferguson mould.
Come January - or potentially sooner, depending on when he is deemed ready to return to action after knee ligament damage – Zlatan Ibrahimovic will rejoin the ranks at Old Trafford  and add considerable experience and quality to United's striking unit.
Alongside him in that group will be Romelu Lukaku, Marcus Rashford and Anthony Martial – giving United a four-pronged attack of international calibre performers once again.
There is then a clutch of attacking midfielders to throw into the mix, with Mourinho having already conceded that he faces some welcome selection headaches when it comes to picking an XI on any given day.
He said after a 4-1 victory over Burton Albion in the Carabao Cup : "When I see the match last Wednesday, the attacking players - Martial, Rashford, [Juan] Mata, [Jesse] Lingard - which one deserves to be on the bench? No-one. Nobody deserves to be on the bench. But they are four, plus Lukaku and [Henrikh] Mkhitaryan is six. I cannot play with the six."
Rashford, Lingard and Martial were all on target against the Brewers, with the trio eager to make the most of any opportunities to impress from the start.
There is, however, an argument for them, particularly Martial, looking to inherit the Solskjaer role within the current United set-up.
The Frenchman's effort against Championship opposition was his fourth of the season, but his first as a starter.
He has since gone on to put in an impressive display against CSKA Moscow in the Champions League – netting once and providing two assists – but so far in the Premier League the 21-year-old has made a greater impact as a substitute, with Mourinho getting his tactical approach spot on as he plays to the strengths of those at his disposal.
Martial is clearly capable of taking in more minutes – he is, after all, an investment which could cost United £58 million – but he is also still young and facing intense competition for limited places.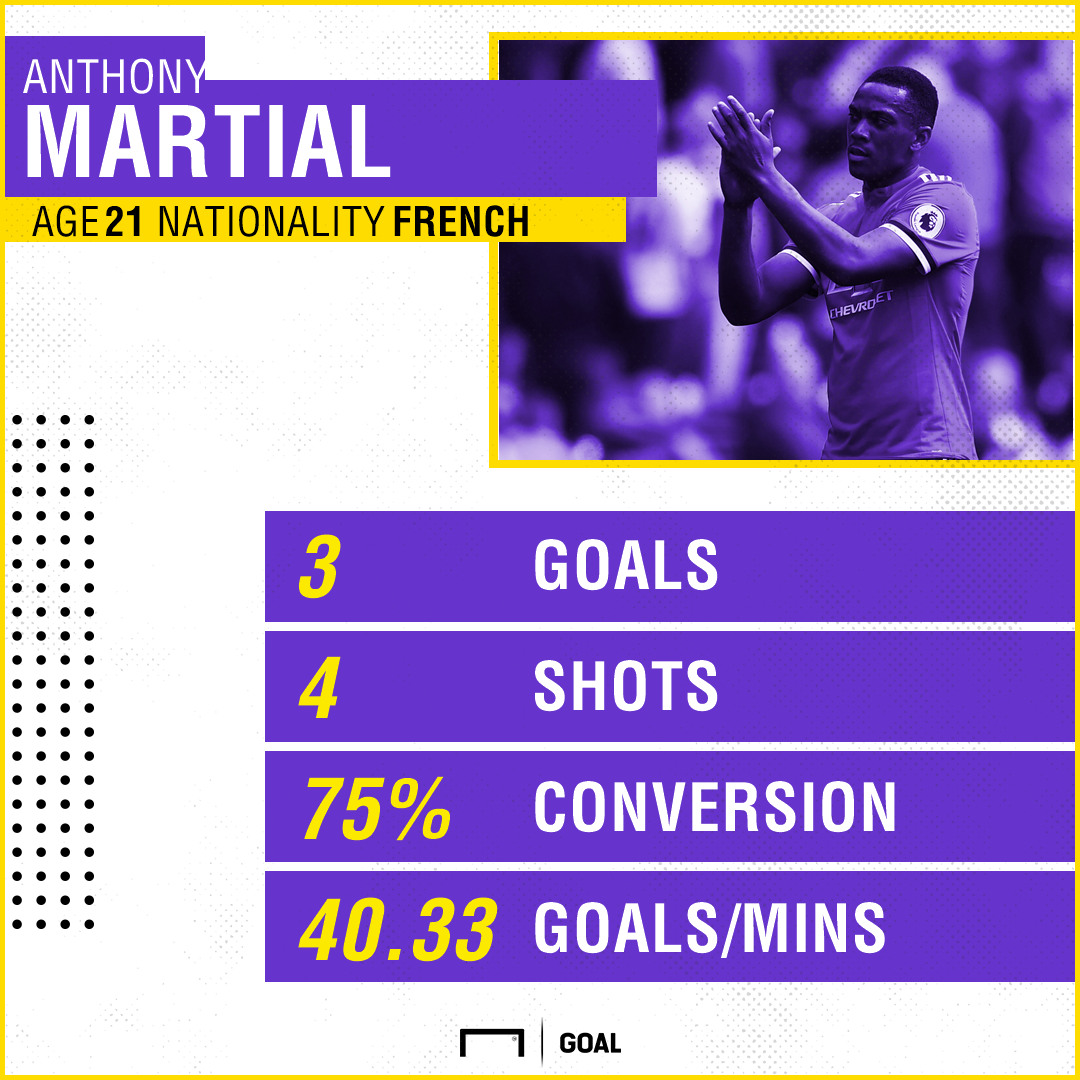 Much like Solskjaer before him, he should learn to view his outings as an impact player as a positive, with Mourinho impressed by what he has seen from the jet-heeled frontman of late .
He said ahead of a trip to Southampton: "I see great improvement in the person, in the moods, the face and in the body language. What I see? In a word; happiness."
The Portuguese added after a trip to Russia in midweek: "He had lots of freedom and lots of support and quality around him too and I am happy. A goal is always important even on a penalty but his contribution was very good, a pity he couldn't play for 90 minutes because I was ready let him play the whole game."
The United boss is happy because Martial is contributing when called upon - his three goals in three comfortable 4-0 Premier League wins this term have come with his pace and hard running off the bench giving tiring opposition defences nightmares as the Red Devils have picked up a useful habit of netting late on – a la Ferguson.
Those aforementioned efforts have also come from just four shots – giving him a rather impressive conversion rate of 75 per cent – while his minutes-per-goal ratio is the best at Old Trafford by some considerable distance, as he currently finds the target once every 40.33 minutes.
Martial has also created seven chances in top-flight outings so far, with only first-team staples Lukaku, Mkhitaryan and Paul Pogba able to better the return of a man with just 121 minutes of action under his belt.
The former Monaco starlet is proving himself to be a United super-sub for the 21st century, and that is no bad thing as there are certainly worse players he could be following in the footsteps of at Old Trafford than Solskjaer.