Transfers
Man Utd target Perisic yet to indicate to Inter that he wants out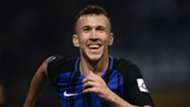 Ivan Perisic has offered no indication to Inter boss Luciano Spalletti that he will be pushing for a summer move to Manchester United.
Having spent much of the transfer window 12 months ago being heavily linked with a switch to Old Trafford, the Croatia international is reported to be back on the Red Devils' transfer radar .
An impressive showing at World Cup 2018, which included a goal in a 4-2 final defeat to France , has seen Perisic's profile rise once more.
He did, however, commit to a new five-year contract with Inter in September 2017 and Spalletti claims to have held positive talks regarding the 29-year-old's future.
Spalletti told reporters on the latest exit talk: "In the last few days I talked to Perisic after he finished the celebrations and he told me he is mentally tired and in terms of energy.
"He must recover but he has not told me anything that concerns his desire to stay here in Milan."
United, though, may decide to test Inter's resolve before the next deadline passes.
Former Nerazzurri boss Jose Mourinho has admitted to being a fan of Perisic, with disappointment aired at his failure to get a deal done last summer.
He said: "I don't know why he didn't come to Manchester when I wanted him.
"Perisic is the kind of winger that is different to the others.
"Normally you look at wingers and they are just fast and creative. But he is also physical, very physical. Fantastic in the air.
"So the way he wins that ball in the air [for Mandzukic's goal against England] and puts the ball into that space is only possible if you are very, very physical and dominant over defenders.
"So he was amazing by going there and winning that ball in the air."
Perisic has been a model of consistency for Inter during his three seasons at San Siro, with another 11 goals added to his tally in 2017-18 as he also contributed nine assists across Serie A competition.