Manchester United
'Man Utd can easily turn things around' - Herrera insists Tottenham defeat not a 'disaster'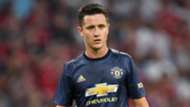 Ander Herrera insists that Manchester United can easily turn their season around following back-to-back defeats.
Jose Mourinho has come under intense scrutiny after his team were thrashed 3-0 at home by Tottenham just a week after losing 3-2 away at Brighton.
But Herrera insists the Reds dominated large parts of the game at Old Trafford and were unlucky not to be leading at half-time. 
"When you lose 3-0 at home, a team like Manchester United, if you didn't watch the game, you would think it has been a disaster, but it hasn't been at all," the midfielder told Sky Sports. 
"We did a good 60 or 70 minutes and should have been winning 2-0 at half-time, but we didn't. If we want to win the next game against Burnley this is the commitment we should have. This is the way we have to play.
"We have quality, a very big squad. We made six changes and for the first 70 minutes, we were good. It's easy to turn things around."
Herrera insists that the camp is in a good place, despite all the negative media attention, and that United can easily produce a different result at Turf Moor on Sunday.
"It's easy to understand what happened," the 29-year-old told reporters after the game against Spurs. "When you have 16 or 17 attempts, when you have so many opportunities to score in the first 60 or 70 minutes and you don't do it, the opponent can score.
"The opponent can hurt you. They did it – they scored from their first corner – and what can we say?
"We made them feel uncomfortable on the pitch, we had so many crosses, lateral free-kicks, corners. They were really uncomfortable in the game and at half-time, it was incredible we were not winning the game.
"I think the commitment, the approach, the attitude, the way we faced the game was perfect. We didn't let them build – one of the things they do well is building up and we didn't let them do it.
"The only thing we can do is look to the future and the next game. If we approach the game against Burnley the same way, with the same attitude and winning mentality, normally we should win the game. So, we can take good things [from Spurs] for the next game."