Super League
Man of the Match: Wleh's winning goal secures safety, creates Selangor Derby history for PKNS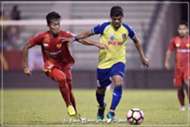 It's safe to say that the Super League match between Selangor and PKNS at the Selayang Municipal Council Stadium on Wednesday will not be picked as match of the season by anyone.
The match was drab, the crowd minimal, the quality on display mediocre. PKNS had played better, while Selangor have not played that badly for a long while.
But the match between the team placed fifth and seventh was not without anything at stake. For the hosts, a win would have kept them in the running for a shot at qualifying for the 2018 AFC Cup, while for the visitors, a win could mean survival from relegation, depending on the results of the other round 20 matches.
At the hour mark of the so-called Selangor Derby, both sides were tied at 1-1 through first half goals by PKNS' Shahrul Azhar Ture and Selangor's Rufino Segovia, and it was not looking like either side was going to find the lead. Selangor managed to create opportunities but were incapable of putting them away, while PKNS could not penetrate the hosts' final third.
In the end, it took one player who have played for both teams to find the winning goal. In the 64th minute, Liberian forward Patrick Wleh attempted to dribble past young defender Adam Nor Azlin. Adam, who was recently hailed for his performance for Malaysia U22 in the SEA Games, managed to stop Wleh in his track at the edge of the penalty box, and steal the ball from him.
But only for a moment. Wleh, utilising his experience, managed to retake possession of the ball from Adam, who recently was hailed for his performance for Malaysia U22 in the SEA Games.
Left with only goalkeeper, Khairulazhan Khalid to beat, Wleh smashed the ball in at the near post to give his side the lead, and what would turn out to be the winning goal.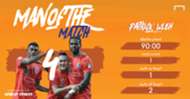 The quality of the game was perhaps a little suspect, but it's certainly better to play badly and win than to play badly and lose, and the Red Ants had Wleh to thank for, for making sure that the former was the outcome for them on Wednesday.
On top of securing them the three points and league safety, Wleh's winning goal also created minor records for PKNS in the derby. The win was PKNS' first away win over Selangor since at least 2004, and the first time ever that they were able to defeat Selangor in all the matches they play in the same season.