Mamelodi Sundowns
Mamelodi Sundowns to face AmaZulu in Prince Mangosuthu Buthelezi Legacy Cup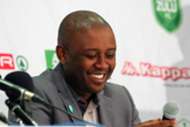 Mamelodi Sundowns are set to battle it out against AmaZulu on October 13 in honour of the Inkatha Freedom Party (IFP) president Mangosuthu Buthelezi.
Dubbed the Prince Mangosuthu Cup, the reigning Premier Soccer League (PSL) champions will be hosted by Usuthu at the Prince Mangosuthu Stadium in KwaZulu Natal.
The tournament is in its second year after it was launched last year and the hosts, Usuthu, have confirmed the match details.
"I want to thank you for the interest you have shown in the Prince Mangosuthu Buthelezi Legacy Cup," said Buthelezi during the launch in Durban.
"Last year, when this Cup was launched, we saw tremendous support from football fans, from municipalities, from local businesses and from the community," said the IFP president.
"But it was the support from members of the media that promoted the Cup to levels of outstanding success," he continued.
"I therefore wish to welcome you to this second Legacy Cup to be played on the weekend of 13 October. I hope you will write and talk about this imminent celebration of football, and that you will cover the games in the papers, on radio and on our screens, for this is a homegrown celebration of talent and skill," he urged.
"I'm proud of the AmaZulu Football Club and it's general manager Mr Lunga Sokhela, who birthed this initiative in 2017. The AmaZulu Football Club has deep roots in the Zulu nation and in KwaZulu-Natal, and they've been scoring goals for more than 85 years," he continued.
"It was my own uncle, King Solomon kaDinuzulu who founded this club as the Zulu Royal Conquers in 1932," concluded the IFP leader.
Speaking on behalf of Cavin Johnson's men, general manager Lunga Sokhela said the initiative makes a lot of sense to the club as they respect the legendary leader.
"This project makes a lot of sense for us. It makes a lot of sense for when we have to pay respects to this great leader (Prince Mangosuthu Buthelezi)," Sokhela said.
"As you have seen people from across all political parties, the business world and South Africans as a whole have been celebrating with his Excellency as he has turned 90 this year," he concluded.
Meanwhile, the inaugural edition featured Bloemfontein Celtic, Mbabane Swallows, a select team from Ulundi and Usuthu.
However, AmaZulu lost 1-0 to Phunya Sele Sele in the final which was played in Durban.