Mamelodi Sundowns
Mamelodi Sundowns coach Pitso Mosimane rues missed chances against Bloemfontein Celtic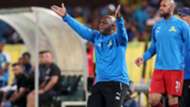 Mamelodi Sundowns coach Pitso Mosimane says they will keep going following their goalless draw against Bloemfontein Celtic on Saturday afternoon.
The Brazilians coach was unhappy with their finishing with Gaston Sirino and Anthony Laffor failing to convert their chances.
"We took a long time to get the width and we depended more on our usual way of playing especially in the first half, okay we fixed it in the second half," Mosimane told SuperSport TV.
"We got a lot of width and wing play, but still we didn't have that strong presence in the box to convert our crosses, to be honest. They defended well and they did what they had to do, it is tactics and why not?" he reacted.
Mosimane also praised Celtic coach Lehlohonolo Seema, who fixed the team's defence after losing 3-2 to Free State Stars last weekend.
"Yeah, that's where we say the coaches are good, they corrected their mistakes at the back, but I have never seen Celtic play like this before, but they did it today. It's right why not, but let's see if they can continue to defend properly like they did today," he continued.
"We missed two chances, I think Gaston Sirino should have scored, Laffor on the edge, that's why you keep him because you know there's something from him, but I am not sure about the tackle (Mbhazima Rikhotso) – we have to see," added Mosimane.
The Celtic centre back was booked for a tackle on Tiyani Mabunda on the edge of the area and the coach believes it should have been a red card, but he added that referee Daniel Bennett was close to the action.
"If it's a yellow card offensive, I am happy he got a cautioned and it looks like there was a big lunge there and those are leg breaking tackles. If the referees are not going to deal with these tackles, there was a referee who dealt with it in the Nedbank Cup," lamented the coach.
"I think Ace Ncobo will enlighten us, there's nothing wrong in having an opinion, sometimes I am right. Yeah but it's okay. It's a title race and it's happening to Liverpool and Manchester City. So, we have to play, keep going and it shows how difficult it is," said the coach.
Sundowns will now look to get another win when they visit Cape Town City on Tuesday night at Athlone Stadium.
"It doesn't mean we will win all the games and whoever wins all the games will be the champion," he concluded.