PSL
Mamelodi Sundowns coach Pitso Mosimane allegedly slapped with assault charges in Durban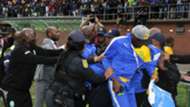 A case of assault has been opened against Mamelodi Sundowns coach Pitso Mosimane, according to reports coming out of KwaZulu-Natal.
Mosimane has reportedly been charged with assault, for allegedly assaulting a security guard in the aftermath of his side's entertaining 3-3 draw against AmaZulu in the Premier Soccer League (PSL) on Sunday.
"Security guard Nathi Ngwenya of Ngwelela Protection Services, a defence company with AmaZulu FC, has opened a case," AmaZulu spokesperson Brillant Mkhathini was quoted saying by IOL .
"He indicated that the coach had struck him in the face after the match," added the Usuthu spokesman.
KwaZulu-Natal police spokesperson, Lieutenant-Colonel Thulani Zwane has also confirmed the developments.
"A case of assault at Umlazi police station was opened. No one has been arrested while investigations continue," Zwane said.
The report suggests that 'Jingles' left for the police station soon after the match at King Zwelithini Stadium, although the reigning PSL champions are yet to make a formal comment on the matter.
According to IOL , the reported infringement occurred when two Sundowns supporters invaded the pitch and were caught by security guards.
Seemingly unhappy with the manner in which the security guards dealt with the invaders, Mosimane allegedly intervened and tried to pull the supporters from the guards so he could walk them off, leading to a brawl. 
"There were no punches there. Where were the punches? Our supporters, two of them got on to the pitch. What do you do? You usher them out. You don't drag them like they are criminals," Mosimane is quoted by the IOL .
"They are not even resisting (to leave the field). This thing of showing we can drag somebody off the pitch (brutally) must end," Mosimane said.
Meanwhile, the league's acting CEO Mato Madlala could not comment as she was still waiting on the match commissioner's report.