Malaysia v Kyrgyz Republic
Malaysia's injury woes worsen - now Davies is injured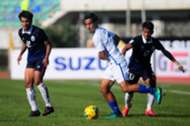 ---
BY        ZULHILMI ZAINAL       Follow on Twitter
---
On Tuesday, Malaysia are set to face Kyrgyz Republic, who are ranked 80 places above them in the FIFA rankings, in a friendly match.
But things have not gone head coach Tan Cheng Hoe's way, in terms of player availability. Akram Mahinan, Rawilson Batuil and Nor Hakim Isa were injured for their friendly match against Sri Lanka on Friday, while Shahrel Fikri Fauzi were later "seriously injured" in the 4-1 win.
Now Tan is set to be without right back Matthew Davies as well, on Tuesday. He revealed in the pre-match press conference on Monday that the Pahang captain had been injured one day earlier.
"Davies hurt his knee in training yesterday, on top of the earlier injuries to the four players. But the rest are fine.
"I don't have any plans to call up any replacement players for tomorrow's match, as there's only one day left and there's not much time left," he told the press in Melaka.
Despite this disadvantage, Tan is determined that his team does not play too defensively against the visitors, who have qualified for the 2019 Asian Cup.
"My men have improved over the past three, four matches, but there are still aspects of our game that we need to improve on, while cutting down on mistakes such as conceding first.
"Tomorrow we need to play to our strengths we need to attack and defend well. Although we are facing a better-ranked team, the coaching staff are confident of earning a positive result as we are playing at home and will be backed by the home supporters," remarked the former Kedah boss.
The match will be held at the Hang Jebat Stadium, and kick off at 8.45 pm Malaysian time.
Also follow Goal Malaysia 's new Instagram account!