Malaysia Cup
Shahrom counting on Gilmar form to trouble weaker JDT defence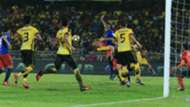 Perak take on Johor Darul Ta'zim (JDT) in the first of the two legs of the 2017 Malaysia Cup semi-final in Ipoh on Sunday. For Perak who reaches the semi-final stage of the competition for the first time since 2007, the draw couldn't be more tougher for them.
Kedah face Felda United in the other semi-final which makes JDT undoubtedly the strongest team left in the competition. Despite a massive gulf of points between the two sides in the Super League, cup games can be different and that is what Shahrom Kalam is counting on.
The centre back is well aware of the strengths of the four-time Super League champions but points out that Perak have done it before this season - in beating JDT and could repeat the same feat. 
"Actually the chances are 50-50, if we look at the records, they have won one and we have won one. Even the results were the same score in both matches. Coach Mehmet [Durakovic] knows what is JDT's strong and weak points and we have to use that to our advantage. It's not impossible to go through," said Shahrom to Goal.
Shahrom together with Hafizul Hakim and Nazirul Naim will have to pick themselves up after returning from a disappointing outing in Hong Kong with the Malaysia national team. The result in Hong Kong all but sealed Malaysia's fate in the Asian Cup qualification process.
With an increasing crocked list, Perak are unlikely to be able to field their best available XI. However, Shahrom accepts that as part of the game and prefers to focus on the players that are available, pointing out to the current Malaysia Cup top scorer in Gilmar Filho as the one Perak hope to be able to lean on.
The Perak captain pointing out that JDT's defence isn't as stern as it was before without Marcos Antonio particularly given defeats to Selangor and Felda United in more recent matches.
"Hafiz [Kamal], Yashir [Pinto] and Nazrin [Nawi] will not be available. But the replacements like Zaquan [Adha] and Shahrul [Saad] can fill the gaps. There shouldn't be a big problem. Home and away match, first of all we can't concede and get as many goals as we can. They are more susceptible these days without Marcos. Our scorer Gilmar is also on fire," added Shahrom.
In both matches that the two teams faced each other this season, the matches have been tight. Expected to be backed by a full home support, Perak will be need to take some sort of lead going into the second leg in Johor Bahru the following Sunday, if they want to match their 2007 effort of reaching the final.