Transfers
'Maguire is going to Manchester United!' - Leicester boss Puel jokes about defender's transfer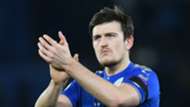 Harry Maguire is on his way to Manchester United - but only for a couple of hours to play against them, Leicester City manager Claude Puel insists.
Maguire has been the subject of reports suggesting he is one of Jose Mourinho's main transfer targets as the window prepares to close at 5pm BST (12pm ET) on Thursday, with Leicester set to travel to Old Trafford 24 hours later to play their opening game of the new Premier League season on Friday.
Puel said Maguire, along with team-mate Jamie Vardy, had returned from World Cup duty with England in good spirits and is adamant the centre-back is happy at the club.
"I'm confident he's going to Manchester United, but only for a couple of hours with us," Puel joked with reporters.
"We want to keep our best players for the squad and for the season, we want to keep a good ambition.
"He has come back with a smile. Harry is a fantastic man. He showed his quality with the national team. He came back with a good spirit and attitude.
"I'm happy about Harry and Jamie [Vardy], they came back with a smile. I'm happy about the attitude of Harry, it's important for him to remain with us, and to bring strong momentum for this season, I'm happy to keep him.
"Harry, he's happy also to remain with us."
Puel's opposite number Mourinho had already expressed his view earlier on Thursday that it was unlikely any new signings would be arriving at Old Trafford before the transfer window closed.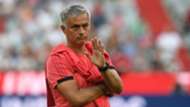 United have been linked with several other signings, especially at centre-half , but Mourinho doubts deals will be done, telling reporters: "I'm not confident and the market closes today.
"So it's time - at least for me - to stop thinking about the market because the market will be closed, so I will have to focus on the players I have in relation to this first couple of matches.
"Maybe [it's] three matches because, after Spurs, there is [an] international break. It gives us a couple of weeks to recover people and to prepare people better and to focus on the players that are available.
"So I'm not even thinking about that list of injured players – [Nemanja] Matic, [Antonio] Valencia and so on. I focus just on what we have and we go with everything we have to the first match."
Asked to confirm that he is expecting no movement at all on Thursday, Mourinho added: "The information I have is no."