European Championship
'Fan violence will make us more strict' - Lyon deputy mayor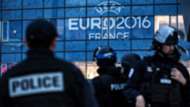 The deputy mayor of Lyon, Georges Kepenekian, hopes the city will avoid a repeat of the violence which afflicted Marseille early in Euro 2016.
Clashes between Russian and English supporters, allegedly inflamed by local troublemakers, caused shocking scenes ahead of and after a 1-1 draw between the Three Lions and Leonid Slutsky's team at Stade Velodrome on Saturday.
There have been flashpoints in other cities during the opening days of the tournament, prompting anxiety among organisers and fans in the lead-up to the first game at Stade de Lyon, a crunch showdown between Group E heavyweights Belgium and Italy.
Kepenekian, though, is hopeful his city will not be afflicted by the trouble that has flared up elsewhere. 
"We have seen terrible images of the events that took place mainly on the Canebiere," he told Omnisport, referring to the historic high street in Marseille's old quarter.
"The sun, alcohol, excitement, [the fans] surely had sparks, I do not know yet, we will see the results of the investigation.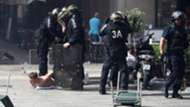 "I think it makes us even more strict and more cautious, obviously inside but also outside the fan zones. 
"This is exactly why we made the fan zones - for the fans to congregate in these areas, [which], as you see, are very secure. We hope it will be the only terrible event of this Euro."
UEFA have responded to the hooliganism by threatening the expulsion of teams whose supporters misbehave, while the French government has advised local authorities to restrict the sale of alcohol in fan zones and other at-risk areas on match days.
Kepenekian acknowledged the unexpected re-emergence of widespread hooliganism has been a wake-up call ahead of the first match in Lyon.
"I think what happened in Marseille... will serve as an alarm to everyone," he said.
"We will probably be more demanding than we have been. We put the maximum in term of security [in place]. 
"You know that the best security cannot prevent people who would really create disorder. 
"But honestly, I think we have done this with the utmost seriousness so that, even more so after what happened in Marseille, everyone tighten things up."