Transfers
Lukaku to Man Utd: Has the Everton striker confirmed his transfer?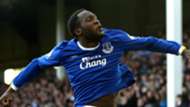 Did Everton striker Romelu Lukaku actually confirm that he's moving to Manchester United? One investigative user on Instagram certainly seems to think so. 
Mata keen on Lukaku Man Utd reunion
Lukaku was spotted training with Man Utd midfielder Paul Pogba on the campus of UCLA Friday  and after the workout stopped to take a few pictures with the fans. 
And while the pictures confirm next to nothing, one fan, with the Instagram handle yutocarlospedro, claims that the striker simply said "Thank you" when he was congratulated on his move to Manchester United. 
In the comments on the post @yutocarlospedro is asked "Did you ask him if he was going to Manchester United?" by Instagram user lukakufp, to which he responded "@lukakufp well it was already on the news yesterday. So I said "congratulation on joining ManUnited" and he said "thank you"".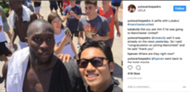 While it's possible that Lukaku could well have been responding kindly, he also may have just confirmed that he will indeed be joining Jose Mourinho's side. 
Friday saw a flury of activity for the striker, with Chelsea stepping in with a bid to match Man Utd's £75 million offer in an attempt to hijack the signing of the Belgian, with Goal having reported on Thursday that United had agreed a £75m deal for his services . 
Manchester United subsequently poured cold water on any chances of Chelsea stealing Lukaku away by stating on Saturday that they'd agreed a fee with Everton for the 24-year-old.