NPFL
LMC suspends Heartland's Dan Anyiam Stadium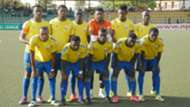 The League Management Company have placed two weeks suspension on four stadia in the Nigeria Professional Football League for poor playing pitches but they will be allowed to return to the stadia after satisfactory inspection from the league body's officials.
The stadia affected are Dan Anyiam Stadium, Owerri, Confluence Stadium, Lokoja, August 27 Stadium, Damaturu and Umuahia Township Stadium which hosts Heartland, Niger Tornadoes, Yobe Desert Stars and Abia Warriors' home matches.
"Abia Warriors have been advised to work on the Umuahia Township Stadium pitch and not hold any activity there for the period of suspension.
"Abia Warriors have been told to nominate an alternative venue for their NPFL 18 home games with effect from Matchday 10. A team of inspectors will visit the Umuahia Township Stadium upon completion of work on its pitch to assess if it can play host to NPFL 18 games."
Umuahia Township Stadium has been suspended from hosting #NPFL18 games for two weeks following reports by match officials that the pitch is not in good condition (1)

— League Management NG (@LMCNPFL) February 17, 2018
The 27th of August Stadium, Damaturu is also suspended for two weeks following reports by match officials that the pitch is not in good condition for #NPFL18 games (1)

— League Management NG (@LMCNPFL) February 17, 2018
Confluence Stadium, Lokoja has also been suspended for two weeks for poor condition of playing pitch #NPFL18 (1)

— League Management NG (@LMCNPFL) February 17, 2018
Dan Anyiam Stadium is suspended for two weeks for poor playing pitch. Heartland will have to work on the pitch & hold no activity on the facility for the period #NPFL18 (2)

— League Management NG (@LMCNPFL) February 17, 2018