Liverpool
Liverpool's new Suarez?! Salah can also do it on a cold Wednesday night at Stoke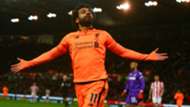 It took Mohamed Salah just 10 minutes to answer in the affirmative and another six to underscore how significant he is to Liverpool. The Egypt international can absolutely do it on a cold Wednesday night at Stoke, with limited time, and in scorching fashion.
Jurgen Klopp's had been far from their best despite being 1-0 up, with the hosts desperate to expose their very worst.
But once the Premier League's top goalscorer was introduced with the clock reading 67, there was to be only one outcome.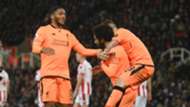 All of the pressure and panic that fell on Liverpool was transferred to Stoke as soon as Salah switched on the turbo; his telepathy with Sadio Mane too problematic for Stoke.
For his first of the night, and the club's second, the 25-year-old touched the ball to the Senegal international and darted back into the danger zone, calling for a delivery.
The movement and menace he supplied began bending the game to his will. 
Mane had plenty to do, but perplexed Darren Fletcher before sending a stellar cross towards his African compatriot.
Salah shaped, and beautifully swatted a left-footed volley past Lee Grant to finally double Liverpool's advantage and ease the tension.
Then, Erik Pieters - his face layered with terror - was beaten to a ball over the top by the Egyptian, who finished with confidence.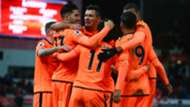 "Two fantastic goals, brilliant play – especially the second goal and the third one was a nice counter-attack, a nice finish," was Klopp's assessment of the pivotal contribution. 
Swiftly, the Reds had gone from being a goal to the good and on the ropes, to romping to a 3-0 victory.
It was not a flawless performance, but a result to relish as the fixtures pile up. 
And it was largely in credit to Salah, who has scored more times in all competitions than any Liverpool player in a season (17) since Luis Suarez managed 31 in 2013-14.
It's only November - or, as it more aptly has been declared - 'Movember', with the forward netting nine goals this month. 
Mane, still finding his best rhythm, proved vital too. As the temperature painfully dipped below freezing, his ice-cold, clipped finish after a neat set-up by Dominic Solanke put the Reds in the ascendancy.
But Hughes altered Stoke's formation to a 4-4-2 to match the visitors and, from the half-hour mark, they raised the trepidation levels by putting Klopp's rearguard under the cosh.
As the Potters pressed on, space opened up for the Merseysiders to exploit, but the duo that combined for opener squandered their chances. Roberto Firmino and Solanke engaged in a superb one-two, but the latter's effort wasn't testing enough for Grant.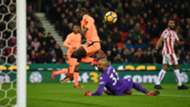 Mane then found the post after pacing forward and in-between both opportunities, Simon Mignolet was relieved to have only received a yellow for clattering into Mame Diouf before half-time.
"I think we could have made it a little bit easier for ourselves in the first half if we'd used the two fantastic chances we had," Klopp admitted afterwards. 
"They were not lucky or anything; they were brilliant, brilliant play. We didn't use them, so we needed a little bit of luck in the situation around the yellow card for Simon Mignolet.
"Second half, it was still an open goal but we should have been clearer in different situations with better passing in this moment, or a little bit cooler in another situation.
"Then we changed and could decide the game."
Joe Allen could've twice floored his former club, but the night - like so many before, and undoubtedly so many to follow - belonged to Salah.