Liverpool
Liverpool 'like a virgin' ahead of Champions League opener with PSG, says Klopp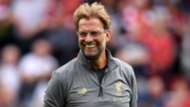 Liverpool may feel like they are being touched for the very first time by the Champions League when they line up at Anfield on Tuesday night.
The Reds host Paris Saint-Germain at Anfield this week for their first European game since losing 3-1 to Real Madrid in the final in Kiev last season.
As tough as a game against the French powerhouse may seem, Liverpool are hoping to make it through the wilderness and reach the showpiece game again as they begin with a group also consisting of Napoli and Red Star.
The fear is fading fast for Klopp, who is confident his side are feeling shiny and new, and does not expect any residual damage from last season to haunt them.
"No damage. No, absolutely not," he told reporters when asked if his side had been damaged by the upset against Madrid.
"I think we got a lot of respect because of the way we played last season and I think everyone who saw the final saw that we could have won it against a side in a completely different moment.
"They see the games we played. They saw Manchester City, they saw Rome, they saw Porto. They saw so many games which we played in a really good way. There was a lot of respect.
"It is a nice experience, it is a nice memory, but pretty sure it will help us in the moment, all that stuff, but at the end we have to start new - using the experience but not relying on it.
"The best way is when you are experienced you use your new knowledge and start again - like a virgin if you want."
Sadio Mane, Mohamed Salah and Roberto Firmino have been in good form already for Liverpool this season, but come up against the likes of Neymar, Kylian Mbappe and Edinson Cavani on Tuesday.
And although Klopp recognises their opponents' quality, he is sure his team can be strong and bold.
"I love my players, all of them, I wouldn't change them but I watched Paris, I watched them last year and I watched them this year, and it is impressive," said Klopp.
"They are good, really good, not only for Paris, but Kylian Mbappe, come on, what a World Cup he played!
"And Neymar we all know about his quality. Angel Di Maria, maybe he didn't have the best time at Man United but all the rest of his career was outstanding. Cavani, also an outstanding goal-scorer.
"In the preparation, I have to make sure that we know about it. I know we are quite good but we have to respect them without getting afraid of them."