Liga MX
Leon roaring, Chivas players fall short: Five Things from Liga MX Jornada 13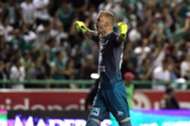 LEON, Mexico — The fans in Leon were ready to give up earlier in the tournament, but now their hopes are fixated on winning another title.
It seems crazy, but the team that started the season with one win in its first five matches has now put together five consecutive victories. The fans' dreams of seeing their team lift a trophy are legitimate.
"There's no secret," said Gustavo Diaz, who took over for Javier Torrente after that rough spell and is now undefeated as Leon manager. "It's the work and talent of the players. They took to our ideas and have put their belief in the system. We changed some things, the scheme, but all credit goes to the players."
As we enter into a busy week with multiple Liga MX matches, they're one of four teams that look to harbor legitimate title hopes: undefeated Rayados, talent-packed Tigres and No. 2 America are the others.
This, though, is Liga MX. A meritocracy it ain't — well, at least not in the regular season. The best team in the playoffs will wear the crown. Let's start with Leon's rapid ascent and look around the league at some of the other contenders and a few teams we can be relatively certain will not be on the podium:
---
Leon roars past Tigres
---

There were chances galore for Leon and Tigres, but it seemed we were hurtling for a scoreless draw before Leon took a free kick quickly and Luis Montes looped a ball over the top that Elias Hernandez finished off. It had been a frustrating day for Hernandez, who had Tigres goalkeeper Nahuel Guzman beaten on at least two previous occasions but sent the ball wide instead of between the posts. You could see his relief after the goal. 
📺 Así fue el gol con el que @EliasHdz08 destrabó el partido entre León y Tigres. ¿Cómo lo vivieron ustedes? pic.twitter.com/SfTxLR2wGj

— Esportes MX (@esportesMX) October 15, 2017
Tigres coach Ricardo "Tuca" Ferretti said his club had left itself open to defeat when it played such an open game, saying his team essentially was waiting for someone to score a goal. It ended up being Hernandez. Leon had been stronger on the night, with midfielder Alexander Mejia keeping Eduardo Vargas in check and Ignacio Gonzalez making a pair of strong tackles to keep Andre-Pierre Gignac from any significant shots. 
Hernandez's goal, and Jorge Torres Nilo's subsequent sending off for taking out Andres Andrade after twice fanning on "Rifle" as the winger danced by him, brought enormous cheers from the Nou Camp crowd. While Diaz has given fans in El Bajio plenty to celebrate, the manager cautioned there's nothing to celebrate yet.
"In soccer, it's very difficult to achieve something so quickly. In this sport, which is quite complicated, getting a win against such big opponents you have to allow yourself to enjoy it, but they're three points. We still haven't achieved any goal," he said after the match. "We're getting close to our first one, but we still haven't finished anything."
Fair enough, but "El Chavo" has his team rolling into the playoffs and soon should be able to sit back and enjoy the work he's put in.
---
America has swagger of title contender
---

Undefeated Monterey has to be the title favorite, but sitting in second place Club America looks increasingly dangerous. Las Aguilas were able to put their claws into Mexico City rival Cruz Azul with a 3-1 victory and start a week of three Clasicos off with a big win. Next up comes Chivas and as the press here already is pointing out, the teams couldn't look any more different at the moment.
"Winning these matches is important to keep the fans' honor and pride in the club intact," coach Miguel Herrera said of the rivalry contest. America fans have a spring in their step after winning the Clasico Joven in convincing fashion with the attack functioning in an impressive way against a Cruz Azul team that has been somewhat stubborn at the back.
Cruz Azul coach Paco Jemez stubbornly said after the game that his squad simply lacked the same finishing touch that America applied. Well, it also failed to avoid mistakes at the back, like the one that gifted America its third goal. Even if America's secret is simply finishing off goals (which, again, it isn't), they're doing it better than any team in the league. Add in the fact that not only did they control the midfield but did so without suspended Guido Rodriguez and it's clear Herrera has a team that is to be feared in the Liguilla.
---
Chivas players back Almeyda, fail him during match
---

It was a strong show of support for manager Matias Almeyda as his most veteran players accompanied him to face the press after a 2-1 home loss to Morelia. Not only did the loss extend Chivas' painful home winless streak, it also all but ended the club's hopes of getting back into the Liguilla to defend their league title.
"We're here to show our support for Matias," forward Alan Pulido said. "We know we've had a bad tournament, but the locker room is more united than ever and we wanted to show that."
The Argentine said he appreciated the gesture, but surely he'd have been happier to see his players have his back on the field. You can fault Almeyda for his changes, but his tactical plans have been largely the same as the ones that worked well last tournament — ones they rode to the league-cup double. Injuries have derailed Chivas, but even so this is supposed to be a club that has the depth to compete even if one or two players miss time.
#NoTeLoPierdas
Autogol de Carlos Salcido@Chivas 1-2 @FuerzaMonarca #J13AP2017 #LIGABancomerMX
⚽ #SienteTuLiga ⚽ #TuVidaNoEsUnJuego pic.twitter.com/RGiSXGENfN

— LIGA Bancomer MX (@LIGABancomerMX) October 15, 2017
Saturday was a culmination of frustrations. Carlos Salcido scored a gorgeous goal but also looped one into his own net in stoppage time to give an underwhelming Morelia the triumph. Things haven't gone Chivas' way this tournament, something that has been far more down to the individuals on the field than the man in the technical area.
---
Rayados can rest easy
---

Monterrey's spot in the playoffs still isn't mathematically secure, but it's practically a lock. Saturday's match with Pachuca would've been easy enough to overlook for Monterrey: Diego Alonso's men needed a victory and Rayados are so impressive at home. Coming out of an international break that saw several players make long trips, there could've been a lull.
There wasn't. Antonio Mohamed had his side ready to go from the whistle as they extended their unbeaten run to start the season to 11 matches with a 2-0 victory over Tuzos. With a busy stretch kicking off that includes both league and cup matches, Mohamed could now hand his top players a bit of rest and relief ahead of the postseason. Going undefeated in a tournament is nice, but what have you gained if you are the Superlider but don't lift the trophy?
Now, it's not a recommended strategy. Monterrey probably needs to arrive in the Liguilla in as good of form as possible. They were easily the top team in 2016 Clausura, the last team not named Tijuana to top the regular season and lose in the final. The club has invested and wants to see a return. The fans are eager for another trophy. Crunch time will arrive in the Liguilla. Rayados can't take a few beats to rest right now.
---
Cooling cause for concern for Xolos 
---

It looked like Tijuana had it figured out. After a bumpy start to the Eduardo Coudet era, Xolos put together four straight wins. Since then, it's been four matches without a victory including Friday's dour draw with Veracruz.
"Scoring is tough for us right now, and not because of the lack of chances, the situations we're generating, but rather because we're not hitting the target with our final touch," Coudet said after the 0-0 result. "It's something we have to get better at. We have an important attacking ability, but we're not scoring."
Tijuana has failed to find the back of the net in its last three games, and no matter what Coudet says it goes deeper than simply one player not scoring. Gustavo Bou getting hot again would be nice, but it has to be a team effort. Xolos are no longer creating the quality opportunities they were earlier in the campaign. Without good chances, not only will they fall short of their goal of getting out of the first round of the Liguilla, they won't even be in the postseason to begin with.
---
Goal of the Week
---
#NoTeLoPierdas
G⚽⚽⚽L de Carlos Salcido@Chivas 1-1 @FuerzaMonarca #J13AP2017 #LIGABancomerMX
⚽ #SienteTuLiga ⚽ #TuVidaNoEsUnJuego pic.twitter.com/1vKkffdiNf

— LIGA Bancomer MX (@LIGABancomerMX) October 15, 2017
We have Carlos Salcido's own goal in here, it's only fair to get his golazo earlier in the game into the mix.