Simba
Lechantre: We must produce a perfect performance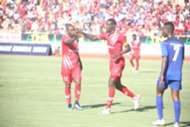 Simba's Head Coach Pierre Lechantre has spent the last month dissecting the defensive weaknesses he believes his team must exploit in order to dump Gendarmarie out of the Caf Confederation Cup.
Simba beat Gendarmerie by a 4-0 score line in the first leg, a result that many feel leaves the host with no hope in of progressing in the Caf Confederation Cup.
The French coach told Goal that his side must produce a perfect performance in the second leg which will be held this week in Djibout.
"We are speaking about one of the best teams in the country, although the first game we won at home but we still need to fight hard and win away" said Lechantre.
Simba only need a draw or not to lose by more than a 3-0 margin to qualify for the next round.