Simba
Lechantre: We have work to do ahead of next season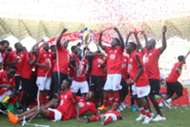 Simba Head Coach, Pierre Lechantre has said revealed that he has a huge task ahead of next season in order to repeat the same feat they managed this season.
Speaking after lifting the title, Lechantre said that winning the title was not an issue but the issue will be to defend it next season.
'We have won the title but our big task lies ahead and that is defending it, we will have to work harder than this season in order to achieve that," said Lechantre.
Simba nearly won the title with unbeaten but their hopes were killed by Kagera Sugar who defeated them by a 1-0 scoreline last weekend.