Simba
Lechantre salutes Yanga's achievement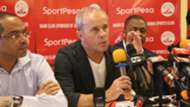 Simba Head Coach, Pierre Lechantre has hailed Yanga after they booked a place in the group stage of CAF Confederation Cup.
Speaking to Goal, Lechantre said that it is a great achievement  for Yanga this season and they have to fight hard in order to represent the country well.
"Yanga have done enough to be congratulated, this is a great step which everyone wants to achieve, they now have to put in a good fight in order to represent the country well" said Lechantre.
Yanga have qualified for the group stage of the CAF Confederation Cup and awaits a draw to know who which group they will placed in
Simba will meet  Yanga in the Dar Derby set for April 29 in the Vodacom Premier League.