PSL
Laffor: Sundowns are victims of their own success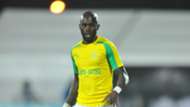 Mamelodi Sundowns have been going through a slump in the league recently having failed to win any of their last three encounters.
A concerning factor has been Sundowns' inefficiency in front of goal in the absence of talisman Khama Billiat.
While Sundowns' mercurial winger Anthony Laffor has alluded to the fact that the Tshwane giants' wastefulness in front of goal has been their biggest weakness, he emphasised that due to their recent success, teams have become far more defensive.
Nonetheless, the Liberian believes that despite the Brazillians' disappointing run of late, they can rediscover their form once again.
"That is life, and that's where we find ourselves. We just need to accept it and take ourselves out of the situation' because we put ourselves in that situation," Laffor told Times Media. 
"Every team wants to beat us and if they draw they are happy. And there's nothing we can do about it. We don't need to blame ourselves' and we don't need to blame our tactics. It's just that we are missing chances, and we just need to get a win in the league and then things are going to be fine," he said.
The 32-year-old also maintained that the defending PSL champions are still in a good position on the log, but warned that they cannot allow complacency to creep in.
"At the moment' where we are on the log' it looks difficult but it's not difficult," Laffor said.
"We've got games in hand' although those aren't wins. We just need to keep our feet on the ground because where we are is OK' although we are not satisfied – we can do better, and I think we are going to do better. It is going to change, because this is not the first time we have been in this situation at Sundowns," he continued.
"In the time I've been at Sundowns we've been in this situation. We took ourselves out of it. So' we'll see," Laffor concluded.