NPFL
Ladan Bosso thumbs up Federation Cup standard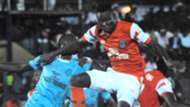 President of the Nigeria Football Coaches Association, Ladan Bosso has commended the standard and organisation of this year's Federation Cup and has thumbed up the performances of Kwara United and the competition's semi-finalists.
Bosso pointed that he monitored the group stage of the Lagos centre while acting as an external supervisor that moderated the practical exercises of the Nigeria Institute of Sports students.
He said the organisers of the competition have made the stake higher this year and that the officiating too has provided a level playing ground for all the teams.
 "I was in Lagos for the group stage games of the centre. I was there as an external supervisor to moderate the practical of the Nigeria Institute of Sports students. I was able to watch two or three matches of the group stages in Lagos," Bosso told the media
"There has been a level playing ground for all teams and I was told it was also the same as the other centres. There is a little bit of improvement in the organization compared to that of last year."
The former coach of Kano Pillars and Abia Warriors praised the impressive run of Enugu Rangers and Nasarawa United in the competition and he said that he was not surprised by their performance.
He also added Nasarawa United's managerial and players' stability have made them become a force to reckon with both in the league and the Federation Cup. 
"I was not surprised because I know that if you talk of tactics and maturity I think Rangers have an edge over Akwa United. Akwa United's experience in the Federation Cup only came in recent times but they have been eliminated now," he continued.
"There were also so many interesting results like the winner of the league being thrown out in the Round of 64 by unknown Standard FC of Kaduna. This season's own has been keenly contested and I just hope it continues like that until the end of the competition.
"Nasarawa United are a quite experienced side with a coach that has also made his name with ABS before deciding to leave for Lafia. He has been able to maintain almost the same players with which he started the team with."