KPL
KPL transfers: AFC Leopards release their star man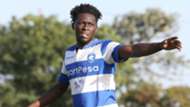 AFC Leopards have officially released Ghanaian striker Gilbert Fiamenyo ahead of second leg of Kenyan Premier League.
Earlier this week, club chairman Dan Mule explained to Goal that the big man will travel to his homeland to seek for treatment after suffering a serious knee injury. He also said the future of the player in the team was uncertain.
It seems the club has made up mind considering the player is among four others, who have been released. Through a post on the official social account, Ingwe have also confirmed the new arrivals. "In, Musa Mudde, Keziron Kizito, Victor Majjid, Alexis Kitenge, Ray Omondi, Aziz Okaka.
"Out goes Charles Bruno, Kiongera Paul, Mang'oli Bernard and Fiamenyo Gilbert."
AFC Leopards are hoping for a good run after the break, following a poor start in the league.