Premier League
Koscielny admits Wenger uncertainty has made Arsenal top-four bid 'difficult'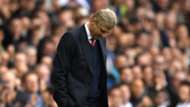 Laurent Koscielny admits that a "difficult situation" surrounding Arsene Wenger has made life tricky for Arsenal in their pursuit of Champions League qualification.
The French coach boasts a faultless record of reaching Europe's premier club competition during his time at the Gunners helm, but that run is in danger of coming to an end.
Guardiola hits out at Wenger claims
Arsenal sit fifth in the Premier League at present, three points adrift of Manchester City in fourth, and are yet to reveal who their manager will be for the 2017-18 campaign.
Protests against Wenger have become commonplace as his contract runs down, and Koscielny concedes that uncertainty off the field has provided an unwelcome distraction for those trying to generate positive results on it.
He told Sky Sports: "It is a difficult situation when you don't know what is happening with the boss but you are professional.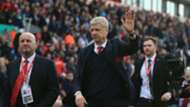 "We are players of this club and we just want to have the best results, not to think about our situation or the situation of the boss.
"We are all in the same boat and the top thing is Arsenal. Maybe some players don't feel great but we need to be focused on our job and not worry about Arsene.
Where will Kolasinac fit in at Arsenal?
"I don't know [if there are signs that Wenger will leave]. Sometimes I could say yes and sometimes I could say no so I think we will respect his decision. He has given a lot to this club during 20 years and done an unbelievable job so we need to respect this and we will respect his decision at the end of the season.
"For me, he is a person I like a lot. He is a big part of my life and my career so I have a lot respect for him. I can't say anything about him, just nice things."
While Wenger retains the full support of his players, failure to secure a top-four finish could see his 21-year reign brought to a close.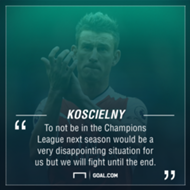 Arsenal can still end the campaign with major silverware, as they prepare to face Chelsea in the FA Cup final, but Koscielny acknowledges that Champions League football is a must for a club of the Gunners's stature.
He added: "We perform every weekend to be in the top four and to fight for the title over the season. To not be in the Champions League next season would be a very disappointing situation for us but we will fight until the end to have as much of a chance to be there next season.
'Alexis has become a complete player'
"The Champions League is a competition that a player wants to play in because you play against the best teams in Europe and it is always an important competition... It is very important for Arsenal to be with the best teams in the world.
"We have a small chance [of making the top four], but in football, you don't know, especially in England. All the teams can win against each other and we need to do our job first, to have the two wins and after that, we wait for the results of Liverpool and Man City.
"I think every game is important but now we are nearly at the end of the season, we have two games and we have to win them both so it starts with Sunderland."