Other Competition Matches
Konadu eyes 100 per cent record against Nigeria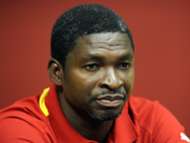 Ghana coach Maxwell Konadu is optimistic his charges, who are already through to the semi-finals, will give a good account of themselves against Nigeria in the final Group A fixture of the Wafu Cup at the Cape Coast Sports Stadium on Monday.
The Black Stars won their opening two games against Guinea and Mali and are the only country aside Nigeria, who are yet to concede a goal in the tournament.
Konadu wants his charges to maintain their incredible performance to underline their ambition of lifting the trophy.
"We started well against Mali but it wasn't the best but we managed to sail past our first opponents Gambia, then Guinea and now Mali," Konadu said.
"Coming to the Group stage, we managed to play better than we did in the first match and against Mali the boys proved that they are a very difficult side to beat.
"They did their best for us and we can only thank them and urge them on to keep pushing. Now that we have qualified already we know how to meet Nigeria. We know matches between these two countries are always very difficult but we will like to maintain this fine record so far.
"So we are going to approach that match with all seriousness. I think we will use all the arsenals we have to go past Nigeria. We know they are a very good side but we must make a statement that we're also in for the ultimate," he added.
In the other group game, Mali will play Guinea at the Nduom Sports Complex in Elmina and any of the two countries could make it to the last four depending on the results between Ghana and Nigeria.
Fox Sports holds exclusive rights to the 2017 Wafu Cup of Nations