Transfers
Klopp is in denial! Liverpool were crazy not signing a centre-half this summer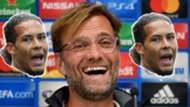 After Belgium's group-stage elimination at Euro 2000, coach Robert Waseige dead-panned, "We have to improve in two key areas: defence and attack."
Jurgen Klopp is presently in possession of an equally flawed side - Liverpool are as profligate as they are permeable - yet nobody is amused. Except for the Reds' rivals.
Reds v Foxes O2.5 goals by HT 9/2
Indeed, when asked last week about the Anfield outfit's chances of winning either the Premier League or the Champions League this season, former Manchester United captain Roy Keane scoffed: "Forget about it! Real Madrid and all the big boys in Europe, they'll be laughing at Liverpool."
Certainly, the Reds' rear-guard is risible.
Since destroying arguably the worst Arsenal side Anfield has ever seen at the end of August, Liverpool have played four games in all competitions and failed to win one, conceding 10 times in the process.
Their 5-0 loss at Manchester City was undoubtedly conditioned by the dismissal of Sadio Mane, at a time when they were still only a goal down and playing well, while they dominated for long periods against Sevilla (2-2), Burnley (1-1) and Leicester (0-2).
However, the draw with Sevilla summarised Liverpool's season so far - and the side they have become under Klopp (and nobody could argue after two years that this is not his side now).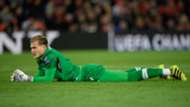 Liverpool bossed their Champions League opener almost from start to finish, played scintillating attacking football - particularly during the first half - but missed a penalty and conceded two dreadful goals.
Captain Jordan Henderson lamented afterwards: "We had plenty more chances to score so we need to be more ruthless and go three or four goals up." It was an unintentional but nonetheless damning indictment of his team.
As we also saw on the opening day of the season at Watford, if Liverpool don't score at least four times, there's no guarantee they'll win the game, because this is a side that concedes, on average, at least once per game.
Since Klopp took charge of Liverpool in October 2015 they have played 71 games and shipped 91 goals, more than all of their top-six rivals: Arsenal (81), Manchester City (75), Chelsea (74), Manchester United (58) and Tottenham (57).
Of course, it is perhaps unfair to judge Klopp on his first, truncated campaign, given he inherited a malfunctioning side from predecessor Brendan Rodgers, and it is worth acknowledging that Liverpool had the fifth best defence in the Premier League last season.
However, the 2016-17 campaign also underlined that the Reds are being handicapped by their brittle back four.
Klopp believes that attack is the best form of defence and his industrious, pacey forwards occupy opposition backlines for their majority of their matches. Indeed, Liverpool faced fewer shots than every other side in the top flight last season bar Manchester City - yet still conceded 42 times.
When shorn of their best attacking outlets through injury - Philippe Coutinho, Adam Lallana and, in particular, Sadio Mane - Liverpool go from title challengers to top-four hopefuls because, essentially, what little defending the Reds have to do, they do terribly.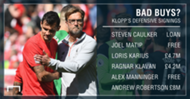 Why? Because their goalkeepers - no matter who is positioned in between the posts - are as weak as those stationed in front of them. Last season, only Swansea and Southampton had worse save percentages. So, did Liverpool buy a goalkeeper during the summer? No, they did not.
Liverpool also lack any great ball-winners - no side lost more tackles than Liverpool last term, while, for all the talk of gegenpressing , they were the second worst team in the division when it came to interceptions. So, did they buy a midfield protector? No, they did not.
Liverpool's centre-halves are prone to shocking lapses in concentration and unforced errors - only West Ham made more errors leading directly to goals last season. So, did they buy a new defensive leader during the summer? No, they did not.
Of course, Liverpool made signing a centre-half, Virgil van Dijk, their No.1 priority, but it is shocking that when that deal collapsed due to the Reds' own incompetence, there was no plan B. It was Van Dijk or nobody, because Klopp felt that there were no upgrades to be found anywhere in Europe.
He claimed: "We watched all of [their potential targets] 500 million times." And yet Klopp did not feel any of them better than the centre-halves he presently has at his disposal.
"They are all good out there but they are not that good that you say, 'Yes, they help immediately.' I had to make a decision and the decision was our boys are not worse than them."
Even more jarringly, Klopp challenged disbelieving journalists to "go out there and ask other teams whether they'd like to pick [our defenders]. You would be really surprised."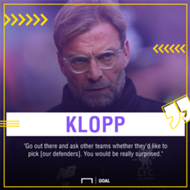 The surprise would be if any top side in Europe would want a Liverpool defender in their squad, let alone their starting line-up.
Klopp seems to sincerely believe that Napoli's Kalidou Koulibaly – one of those watched "500 million times" - or Roma's Kostas Manolas, who was available for €40m, would not have represented a significant upgrade on Joel Matip, Dejan Lovren, Ragnar Klavan or Joe Gomez. That is a difficult concept for anyone who has seen all of those players in action to get their head around.
Furthermore, his reasoning for not signing anyone other than his top target, Van Dijk, was that it would not have made sense to have spent money on a player that did not immediately improve the squad.
Yet Liverpool bought Andrew Robertson for £8m, even though he was far from first choice when it came to acquiring a new left-back. Damningly, the Scotland international accounts for just under half of the sum total of the Reds' spending on goalkeepers and defenders since Klopp's appointment (£16.9m).
That is made all the more baffling when the manager argued against spending money on a centre-half not good enough for the first team yet sanctioned the £40m acquisition of a 'midfielder' not good enough for the first team, Alex Oxlade-Chamberlain.
The latest summer of recruitment was contradictory and confusing yet Klopp insists otherwise, meaning he is either in denial or delusional.
Either way, he has no defence.