Kerala Blasters
Kerala Blasters' David James - We don't need a marquee player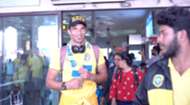 David James has poured cold water on rumours of Kerala Blasters signing a marquee player this season.
The team returned to Kochi on Saturday after a week of pre-season training at the Transstadia in Ahmedabad. Blasters will face Melbourne City and Girona FC on July 24 and 28th respectively at the La Liga World tournament. 
"It is a wonderful occasion to have teams from A-League and La Liga playing in Kochi. It is a big occasion for us. It is slightly awkward that the league season doesn't start for two-three months," commented James. 
Blasters have roped in India internationals Anas Edathodika, Seiminlen Doungel and Halicharan Narzary ahead of the 2018-19 Indian Super League (ISL) season. They have signed Cyril Kali, Slavisa Stojanovic, Matej Poplatnik and retained Courage Pekuson, Nemanja Lakic-Pesic and Keziron Kizito to fill six out of the seven available foreign player spots in the squad.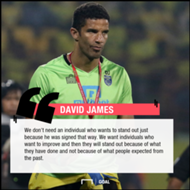 Although rumours are adrift about the seventh foreigner being a marquee signing, David James firmly believes that the Yellow Army does not need to follow the concept anymore.
"There is wonderful camaraderie among the players. The recruitment process has been different. We had to recruit pretty much all of our local and foreign players. We have brought in some tremendously talented players," said the former England international. 
"I think the ISL and Kerala Blasters have gone away from that sort of approach (signing marquee players). It is not about one player carrying the rest of the team. It is about the team carrying the players."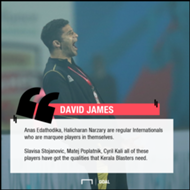 Blasters had roped in former Manchester United player Dimitar Berbatov last season but the move backfired. The player struggled to perform on the field and wasn't comfortable playing under David James. 
"When you look at the likes of Anas Edathodika and Halicharan Narzary who are regular Internationals coming into the squad, they are marquee players in themselves. Slavisa Stojanovic, Matej Poplatnik, Cyril Kali all of these players have got the qualities that Kerala Blasters need. We don't need an individual who wants to stand out just because he was signed that way. We want individuals who want to improve and then they will stand out because of what they have done and not because of what people expected from the past.
"I am comfortable having one place (for foreign players) available. The foreign player thing clouds the overall squad dynamic. We have five Indian international players in that team. If what we have got is enough at the moment, then there will be no rush to fill that last place. We recruited well, we took our time to sign the right players.
"I'm sure that a lot of Kerala fans wouldn't have heard of the three foreign players we have brought in but from what I have seen them do, I am confident that they will do very well in ISL."
The former Liverpool goalkeeper also refused to tag any of his players as the next Iain Hume of Kerala Blasters. Iain Hume, who is the all-time top scorer of ISL, failed to earn a contract extension after an injury-stricken 2017-18 season.
"I am not going to say he is the new 'anyone'. But I have seen players, especially in the first season, we brought in that no one seems to have heard of but by the end of the season, the fans were loving them because they had all the right attributes and had the desire."
Lastly, James cleared the air about Kerala Blasters' acquisition of FIFA U-17 World Cup participant Dheeraj Singh Moirangthem. The India U-17 goalkeeper is ready to play at the highest level, according to the former Liverpool goalkeeper. 
"If I didn't think Dheeraj could (play at the highest level), then he wouldn't be here. This is not a charity, we don't bring people in just because they are nice."